Natural Gas Storage Summary
For natural gas report week, May 21, 2020, the EIA reported a net increase in storage of 81 Bcf. The injection was in line with forecasts of injections ranging from 73 Bcf to 91 Bcf and averaging 83 Bcf. Last year for the same week there was an injection of 101 Bcf and the five-year average is an injection of 87 Bcf.
Working gas in storage was 2,503 Bcf as of Friday, May 15th, 2020 per EIA estimates. Inventory was reported at 779 Bcf (45.2%) higher than last year for the same week and 407 Bcf (19.4%) more than the five-year average of 2,096 Bcf.
Natural Gas Market Recap
June NYMEX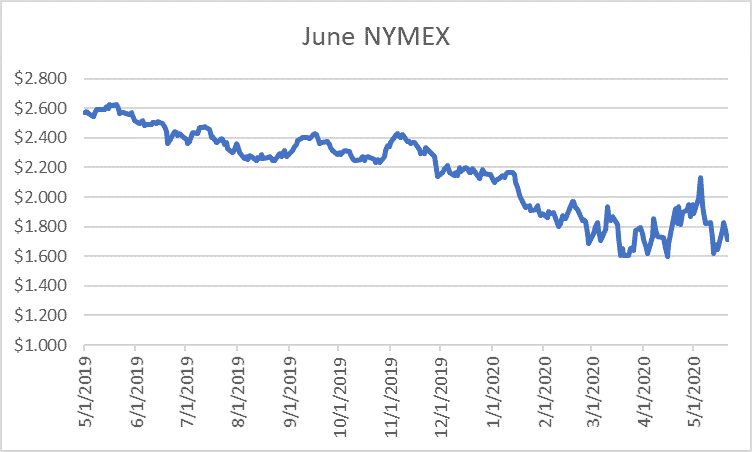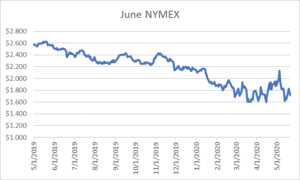 June NYMEX: Settled Thursday at $1.710/Dth down 6.1 cents from Wednesday's close at $1.771/Dth.
12 Month Strip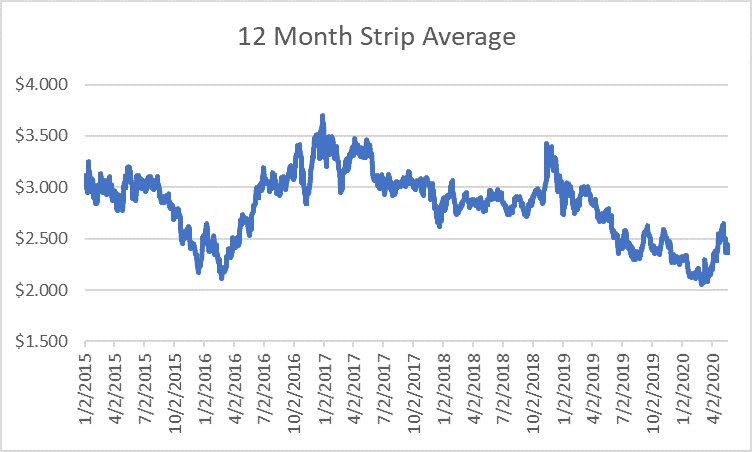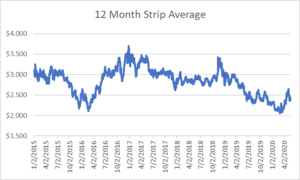 Settled Thursday at $2.362/Dth, down 3.0 cents from the prior week.
Seasonal Strips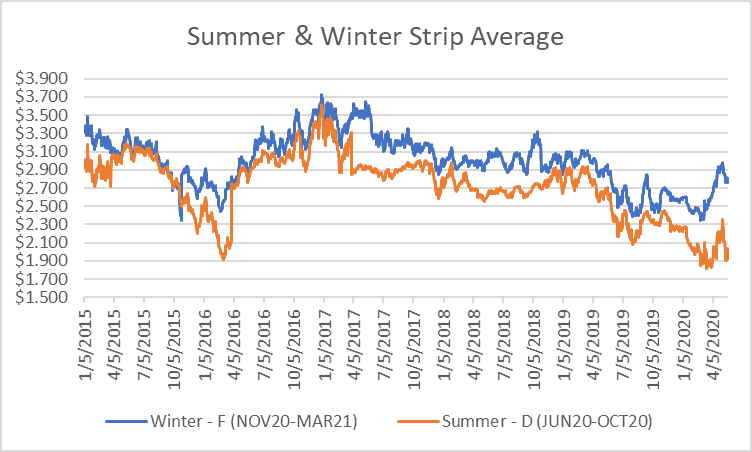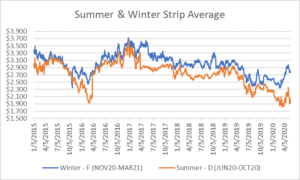 The summer strip (JUN20-OCT20) settled Thursday at $1.914/Dth, down 3.2 cents from the week prior. The winter strip (NOV20-MAR21) settled at $2.758/Dth, down 3.2 cents from last week. 
Natural Gas Weekly
Natural Gas Report – May 21, 2020
Natural Gas Fundamentals
Overall supply averaged 94.2 Bcf/d last week as production dropped by 2.1% and imports from Canada increased by 1.0%. According to the EIA, " EQT Corporation, the largest natural gas producer in the United States, announced on Tuesday it started reducing production in Pennsylvania and Ohio on May 16 as a result of lower demand and prices."
Total demand fell by 10.0% from the prior report week. Residential-commercial consumption decreased by 40.8% as home-heating use normalized when temperatures moderated following unseasonably cold weather the prior week. Industrial demand decreased 3.8% from last week while consumption for power generation grew by 11.3%. Exports to Mexico increased by 2.5%. For the second week in a row, LNG exports decreased, down one LNG vessel to ten with a combined carrying capacity of 37 Bcf.
According to data from Enverus, the daily rig count fell by 27 from last week, down 7.0% to 339.
Utility Prices On The Rise? 
With declining consumption and many customers unable to pay utility bills, power companies are looking for ways to appease investors' interest in protecting profits while avoiding rate increases for consumers. Developing a precise plan has proven difficult, though, with the "return to normal" still unclear.
According to E&E News, industry executives recently shared their plans for securing profitability. Some organizations are slashing spending on travel and hiring in addition to cutting capital investments. Others have signaled they may turn to state regulatory agencies for permission to pursue future rate increases to cover bad debt.
"FirstEnergy Corp. CEO Chuck Jones told analysts last month that his company, which has electric utilities serving about 6 million customers from Ohio to the Jersey Shore, is designed to weather the downturn in the economy.
Almost two-thirds of base electric distribution revenue comes from residential sales, which are up as consumers stay home from work and school, Jones said. And 20% of electric sales come from Ohio, where electric rates are decoupled from kilowatt-hour sales volumes.
'Our rate structures provide a measure of stability, even in tumultuous times,' he said."
Natural Gas Dinosaur Retires
After more than 35 years at work, natural gas pipeline dinosaur, SEL 810A retired from the industry to play the classic video game, Lunar Lander.
According to the manufacturer's 1967 brochure, "the SEL 810A Computer and its enviable field reputation for reliability and performance, has made it the first choice of a large and rapidly growing list of customers with requirements running the full gambit of industrial and scientific real-time applications."
According to a Hackaday story from this week, "The computer was actually very advanced for its day, providing an all IC-based 16-bit computer." If you're looking for a bit of gaming or computing nostalgia, the story also includes a video of somecomputerguy (YouTube) firing it up and running the game. It's worth the six minutes.