Natural Gas Storage Summary
For natural gas report week, May 14, 2020, the EIA reported a net increase in storage of 103 Bcf. The injection was in line with forecasts of injections ranging from 93 Bcf to 115 Bcf. Last year for the same week there was an injection of 100 Bcf and the five-year average is an injection of 85 Bcf.
Working gas in storage was 2,422 Bcf as of Friday, May 8th, 2020 per EIA estimates. Inventory was reported at 799 Bcf (49.2%) higher than last year for the same week and 413 Bcf (20.6%) more than the five-year average of 2,009 Bcf.
Natural Gas Market Recap
June NYMEX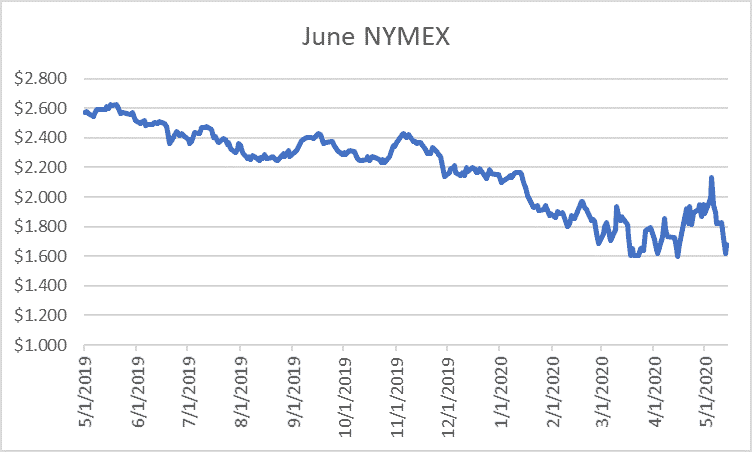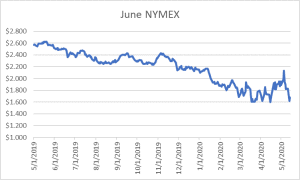 June settled Thursday at $1.681/Dth up 6.5 cents from Wednesday's close at $1.616/Dth.
12 Month Strip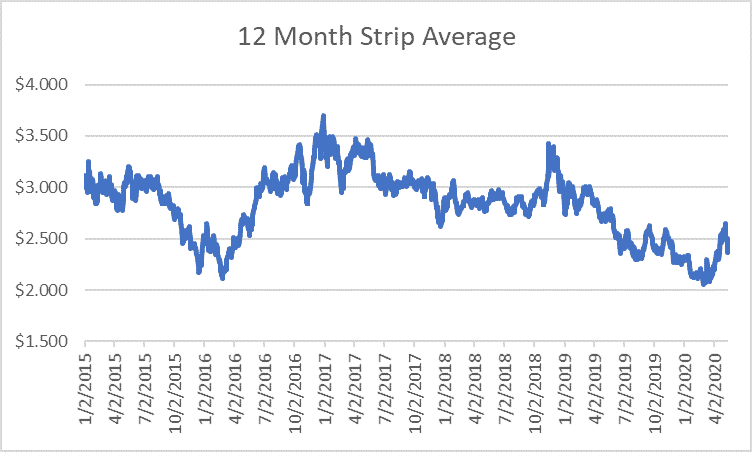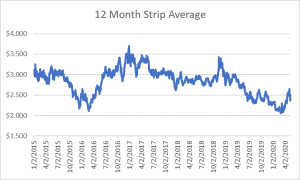 Settled Thursday at $2.392/Dth, down 12.9 cents from the prior week.
Seasonal Strips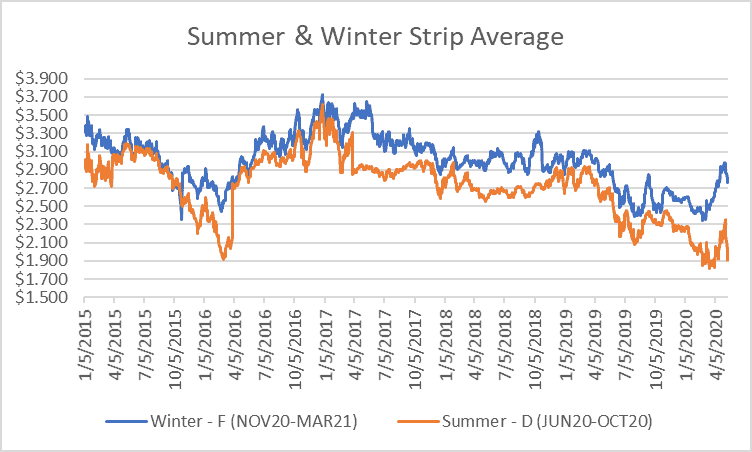 The summer strip (JUN20-OCT20) settled Thursday at $1.946/Dth, down 21.8 cents from the week prior. The winter strip (NOV20-MAR21) settled at $2.790/Dth, down 7.8 cents from last week.
Natural Gas Weekly
Natural Gas Report – May 14, 2020
Natural Gas Fundamentals
Overall supply averaged 96.0 Bcf/d last week as imports from Canada increased by 17.3% and production increased by 0.2%.
Total demand increased by 9.3% from the prior report week. Notably, residential-commercial consumption increased by 34.1% as heating-related consumption rose. Industrial demand increased 3.0% from last week and exports to Mexico increased by 3.8%. Natural gas used for power generation fell by 1.2%.  LNG exports decreased from last week, down 4 LNG vessels to 11 with a combined carrying capacity of 40 Bcf
According to data from Enverus, the daily rig count fell by 17 from last week, down 4.0% to 366.
Enbridge Pipeline Update
Flow from the Appalachia Basin remains restricted following the May 4th Enbridge-TETCO pipeline explosion. While 0.9 Bcf/d of the line's 1.3 Bcf/d capacity has been rerouted, the line won't return to service for the next two to three weeks.
According to an Enbridge critical notice posted May 8th, "TE is in the process of evaluating options to restore partial capacity. TE will address all of the site-specific concerns identified by the National Transportation Board (so NTSB) and the Pipeline & Hazardous Materials Safety Administration (PHMSA) and will be undertaking rigorous inspections on all of the lines in the area. At this time, TE anticipates it will continue to restrict to zero, for a minimum of, an additional two to three weeks from today. These pipelines will not be returned to service until we satisfy regulatory requirements and it is safe to do so. Furthermore, NTSB has assumed control of the incident site. The NTSB and PHMSA are investigating the incident and Texas Eastern is supporting that investigation."
Extensive Reach
The TETCO pipeline is over 9,000 miles long and runs from the United States-Mexico border to New York City. It supplies natural gas to electric generation facilities in high-demand markets in the northeastern United States. The Appalachia Region system is composed of thee lines – Line 10, Line 15, and Line 25. Last week's explosion occurred on Line 10 of its 30-inch pipeline system just north of the Owingsville, Kentucky Compressor Station.
Other Recent TETCO Issues in the Region
A rupture on a segment of Line 10 in Berne, Ohio in January 2019 returned to full service after ten weeks.
In August 2019, an explosion on Line 15 occurred in Danville, Kentucky which is just upstream from last week's location. Following the August explosion, PHMSA issued a 'corrective action order' that required TETCO to "keep Line 15, where the explosion occurred, and Lines 10 and 25 (located next to Line 15), offline…indefinitely." Line 25 returned to service almost a month after the Line 15 explosion and Line 15 is still out of service, nearly a year later. Genscape expects that "…Line 15 and possibly Line 25 will be excavated and checked for external damage. Internal damage will be checked with in-line tools prior to returning to service."