Natural Gas Storage Summary
For natural gas report week, May 28, 2020, the EIA reported a net increase in storage of 109 Bcf. The injection was in line with forecasts of injections ranging from 97 Bcf to 130 Bcf and averaging 106 Bcf. Last year for the same week there was an injection of 110 Bcf and the five-year average is an injection of 93 Bcf.
Working gas in storage was 2,612 Bcf as of Friday, May 22nd, 2020 per EIA estimates. Inventory was reported at 778 Bcf (42.4%) higher than last year for the same week and 423 Bcf (19.3%) more than the five-year average of 2,189 Bcf.
July NYMEX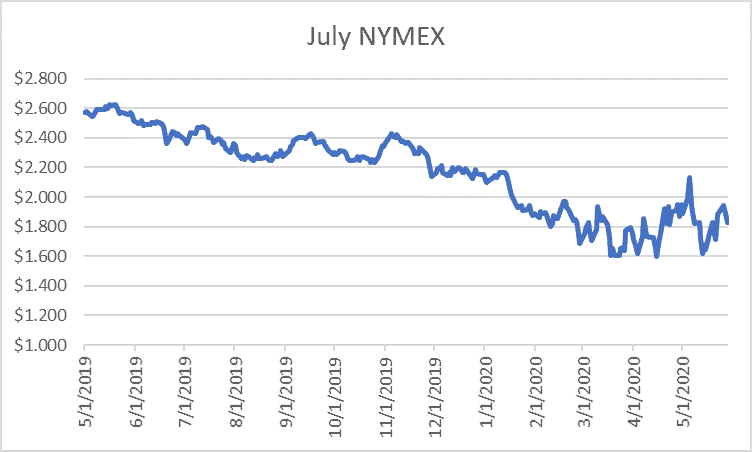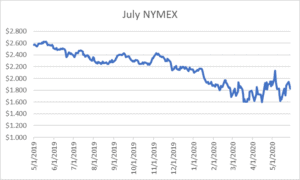 June moved off the board Wednesday, May 27th, settling the month at $1.722/Dth.
July settled Thursday at $1.827/Dth down 5.9 cents from Wednesday's close at $1.886/Dth.
12 Month Strip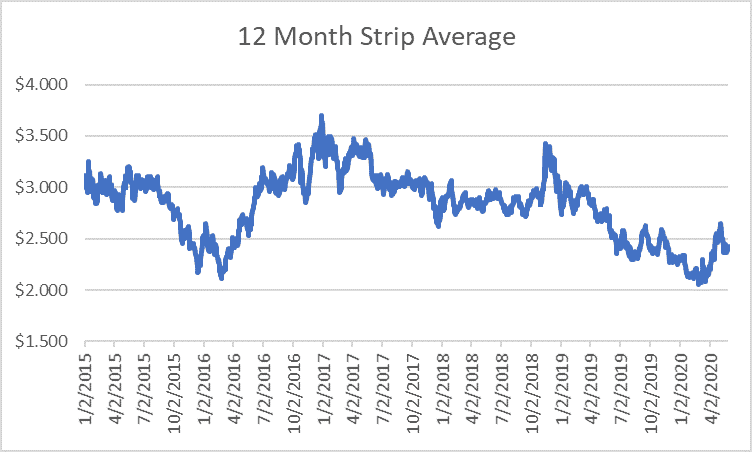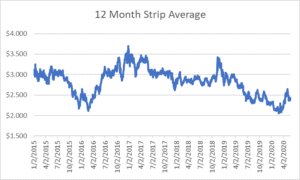 Settled Thursday at $2.425/Dth, up 6.3 cents from the prior week.
Seasonal Strips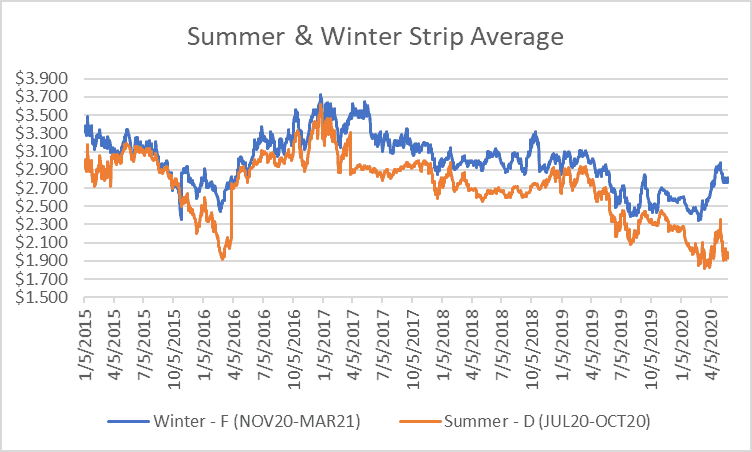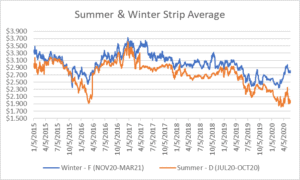 The summer strip (JUL20-OCT20) settled Thursday at $1.945/Dth, up 3.1 cents from the week prior. The winter strip (NOV20-MAR21) settled at $2.762/Dth, up less than a penny from last week.
Natural Gas Weekly
Natural Gas Report – May 28, 2020
Natural Gas Fundamentals
Overall supply averaged 93.5 Bcf/d last week as production dropped by 0.8% and imports from Canada increased by 0.2%. According to the EIA, " Service on the TETCO system in northeastern Kentucky was partially restored on Wednesday following a recent explosion on one of the three lines between Owingsville, Kentucky, and Wheelersburg, Ohio. The affected lines are part of TETCO's north-to-south capacity that flows natural gas out of the Northeast and down to the Gulf Coast. About 0.3 Bcf/d of capacity was restored, compared to about 1.3 Bcf/d available capacity prior to the explosion."
Total demand was unchanged from the prior report week, averaging 60.4 Bcf/d. Residential-commercial consumption decreased by 15.6% and industrial demand fell by 1.3% from last week. Consumption for power generation grew by 8.3%.  Exports to Mexico decreased by 1.3%. LNG exports increased, up two LNG vessels to twelve with a combined carrying capacity of 43 Bcf.
According to data from Enverus, the daily rig count fell by 17 from last week, down 5.0% to 322.
Natural Gas Prices 
Price movement was mixed throughout the report week as most of the country faced above-average temperatures. From New York to Vermont, temperatures soared above 95 degrees. In the West, several cities were under excessive heat warnings with temperatures as much as ten degrees above normal. In those areas, spot price increases ranged from 16 cents to 45 cents. While warm weather during injection season is typically also bullish for prompt month and strip prices, COVID-19 related demand subdued that response.
As states emerge from COVID-19 related activity restrictions and demand begins to normalize, hot temperatures driving up consumption for power generation may begin to have more of an impact. Unseasonably warm temperatures forecast for June combined with falling production could give prices a boost. However, after months of declining associated gas production, this week's upward movement in oil prices may begin to change that if the trend persists.
Renewable Consumption Surpasses Coal 
The pandemic's impact on the energy industry has led to decreased energy demand and shifts in consumption patterns. It's also had a profound impact on the sources used to produce energy as renewables have outpaced coal for power generation for the first time in over 100 years. According to an article by the Wall Street Journal, "The coronavirus pandemic led many power producers to cut back on coal production in response to drops in electricity demand, showing coal's struggle to compete with other electricity sources.
Ben Nelson, lead coal analyst for Moody's Investors Service, said he expects the economic effects of the pandemic will do permanent damage to U.S. coal production, which has been declining for years. 'The longer this whole pandemic lasts, the worse it is for the coal industry,' he said. 'It encourages utilities to shut down more coal plants, and that takes out demand permanently.'"