Natural Gas – Week In Review
Natural gas report week, March 3, 2022 was marked by climbing energy prices amid continued conflict in Ukraine.
Domestic natural gas front-month futures increased for the third week in a row while international prices skyrocketed. Even though sanctions directed at Russia have yet to touch their energy industry and while the integrity of aging supply lines through Ukraine has been unwavering, instability in Euro-Russian relations, collective intention to avoid Russian products, and nagging supply concerns have inflamed energy prices across the globe.
Natural Gas Market – A Quick Recap
Last week's draw from storage was 139 Bcf, slightly more than last year's draw of 132 Bcf and the five-year average of 98 Bcf, but still in line with analysts' expectations. Production was down slightly from the prior week (0.9 Bcf/d) whereas overall demand was up 4.8 Bcf/d with the largest consumption increases coming from the power generation and residential-commercial sectors.
With four weeks left in withdrawal season, the pace of draws from storage is 8% higher than the five-year average rate of 6.8 Bcf/d. If withdrawals from storage match the five-year average rate, the EIA projects we'll begin injection season with 1,411 Bcf in storage, 255 Bcf below the five-year average.
At the time of this publication, crude prompt month is up almost $20 week-over-week.
International LNG Price Highlights
LNG prices spiked across international markets on intensified supply concerns amid escalating Ukraine-Russia tensions.
• East Asia – Swap prices for LNG cargos for March up $5.48 to weekly average of $31.19/MMBtu. Comparatively, at this time last year, prices were $5.93/MMBtu.
• Netherlands (TTF) – Prices up $15.34 to a weekly average of $41.06/MMBtu compared to this time last year when prices averaged $5.70/MMBtu.
• Japan-Korea-Marker (JKM) – Hit $59.672/MMBtu Thursday compared to nearly $6/MMBtu last year at this time.
Why Does It Matter?
Although domestic natural gas markets mirrored European volatility in the fall of 2021, since the beginning of the year, the market returned its focus to fundamentals while all but ignoring European markets. However, in recent weeks, attention has become laser focused on international markets.
According to a report from NASDAQ, "… it has been hard to ignore the massive gains in global energy prices seen this week – especially since those higher prices should keep demand for U.S. liquefied natural gas (LNG) strong for months to come. Since Russia invaded Ukraine on Feb. 24, European gas futures TRNLTTFMc1 have soared over 120% to a record high and U.S. crude CLc1 jumped over 20% to its highest since 2008."
As such, domestic front-month natural gas futures are up for the third consecutive week for the first time since last fall. With demand and production capacity for U.S. LNG maxed out, it's likely the trend will continue.
Energy Independence Clarity
If what's happening in Europe has a clear lesson, at least as it relates to energy, it's the value of energy independence. Recent figures suggest Europe gets as much as 40% of its natural gas imports from Russia. During a time when European supply was at historic lows, it left them precariously dependent on Russian natural gas. Even now as nations scramble to throw every possible sanction at Russia, energy has been largely untouched, a glaring statement of the power of Russia's energy supply.
Which is why even if the numbers convince you we have enough to cover what we use at home, any attempt at securing European stability has to involve a plan for resolving their dependence on Russian energy. That requires cooperation from allies, lest a similar power struggle emerge in the future. How that shapes up is a matter of contention, but domestic price stability and the security of our allies necessitates prioritization.
---
Natural Gas Market Report – March 3, 2022
April NYMEX
April settled Thursday at $4.722/Dth, down 4.0 cents from Wednesday's close at $4.762/Dth, but up 8.1 cents over the prior week.
12 Month Strip
Settled Thursday at $4.834/Dth, up 4.8 cents from the prior week.
Seasonal Strips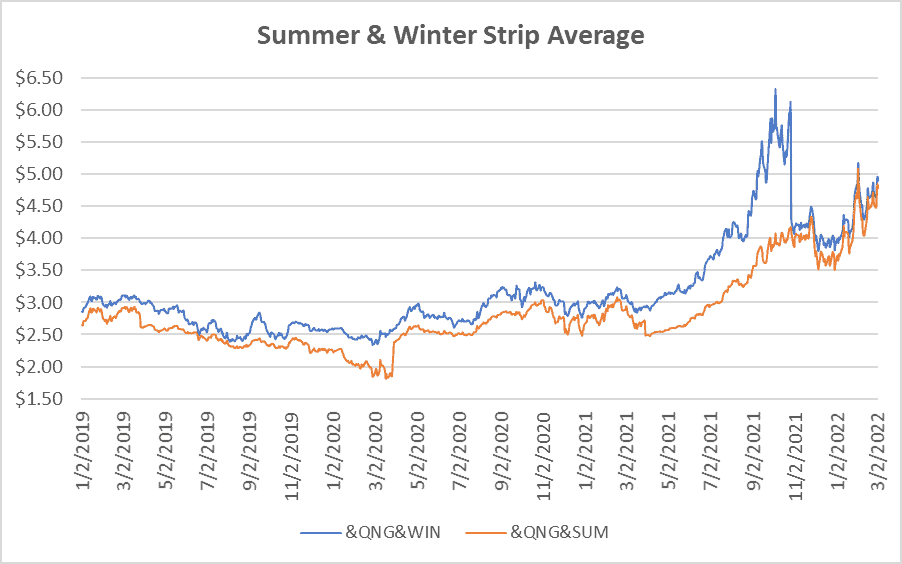 The summer strip (APR22-OCT22) settled at $4.784/Dth, up 7.0 cents from the week prior.
The winter forward (NOV22-MAR23) settled Thursday at $4.903/Dth, up 3.2 cents from the week prior.
Calendar Years 2022/2023/2024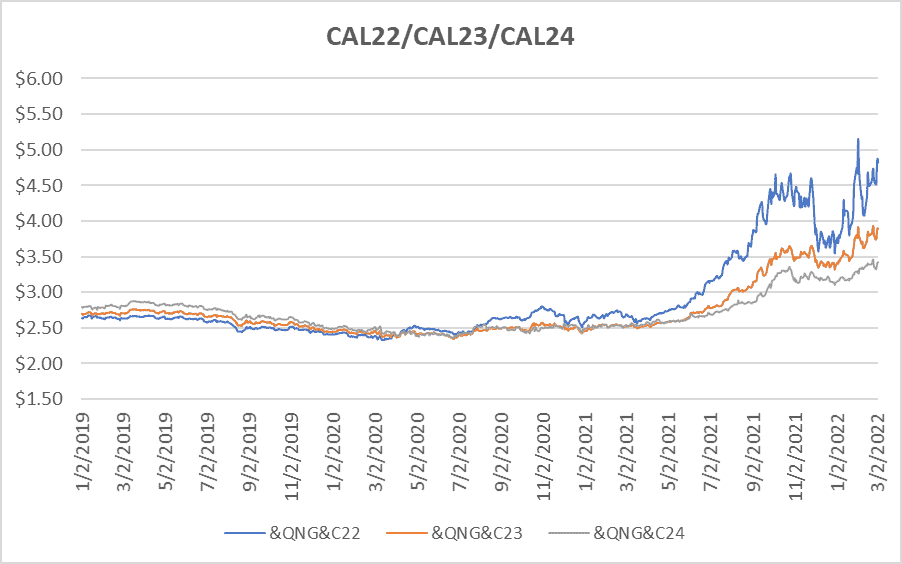 CY22 settled Thursday at $4.825/Dth, up 8.3 cents from the prior week.
CY23 settled Thursday at $3.900/Dth, down 3.3 cents from the prior week.
CY24 settled Thursday at $3.426/Dth, down 3.7 cents from the prior week.
Crude Oil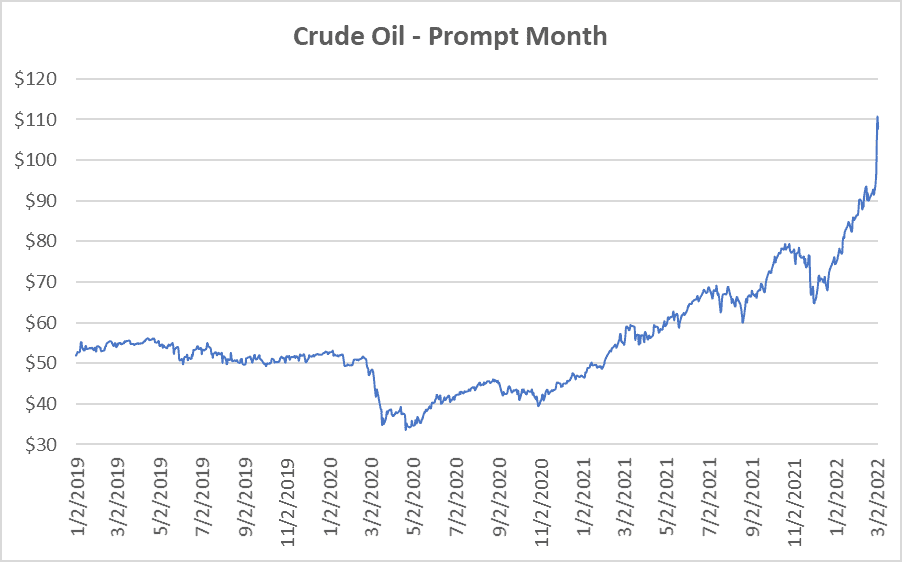 Settled Thursday at $107.67/barrel, up $14.86 from the prior week.
---
Need Help Making Sense of Natural Gas Prices?
Give us a call. We can help you manage risk and navigate the current price volatility.
We'll evaluate your current contract and explore your natural gas buying options.
Call us at 866-646-7322 for a no-cost, no-obligation analysis today.