Natural Gas – Week In Review
Natural gas report week, March 17, 2022 brought higher prices for natural gas futures and, thankfully, a slight drop in crude oil prompt month prices. With international prices declining, domestic markets returned their attention to shifting weather forecasts now pointing to cooler temperatures for the next two weeks.
While analysts anticipated the possibility of an early start to injection season, it seems market disappointment over this week's withdrawal of 79 Bcf was enough to push prices higher.
How does last week stack up to what's typical for this time of year? Let's take a look.
Natural Gas Market – A Quick Recap
Last week's draw from storage was 79 Bcf, notably more than last year's draw of 16 Bcf and the five-year average of 65 Bcf. It also exceeded analysts' expectations, albeit narrowly. Overall, supply dropped slightly with consumption up amid cool temperatures.
With only two weeks left in withdrawal season, end of season storage is expected come in at 1,362 Bcf, 304 Bcf below the five-year average.
The Unseen Value of Natural Gas
While key figures in the climate conversation argue whether natural gas can legitimately be considered a form of clean energy, I want to offer up another matter for consideration.
In 2021, U.S. exports of liquified natural gas (LNG) grew by nearly 50% over the 2020 average, setting a record of 9.7 Bcf/d. According to EIA records, the totals were the highest on record for any year since they began tracking in 1973. This was due to an increase in demand from both Europe and Asia, specifically China.
China
Consider the following:
China is the world's largest energy consumer.
They also use more coal than any other country on earth.
They intend to cut coal use to 44% of energy consumption by 2030 and 8% by 2060.
Natural gas is to be key in China's energy transition.
To this end, since 2013, China has nearly doubled domestic natural gas production and pipeline imports. During that time, their LNG imports have quadrupled. As of the start of 2022, the U.S. was China's second-largest LNG supplier, trailing only Australia. Additionally, within the last year, several Chinese companies signed long-term contracts for the purchase of U.S. LNG. The Center for Strategic and International Studies characterized the move this way, "This is a major turn. And it is a sign that the commercial logic tying these two geopolitical rivals together is strong and will persist alongside and, sometimes, despite of their broader political animosity."
Although Russia recently moved to increase LNG deliveries to China, in 2021, by volume, Russia was the sixth-largest exporter of LNG to China, behind Qatar and Malaysia. Despite intentions to increase deliveries, Russia's ability to deliver on that vision is bound to pipeline completion to full capacity which is projected for 2025.
Why U.S. LNG Matters
It matters geopolitically. China benefits from U.S. LNG. It has advanced their ability to work toward their emissions targets while sustaining industrial demand. It's also proven profitable, as China's sale of U.S. LNG to Europe returned substantial profit. As such it offers the added benefit of furthering European independence from Russian gas. That alone is significant to the extent it prevents Russia from using energy stability as a geopolitical weapon, especially during a time of conflict.
Moreover, today U.S. – China relations command global center stage following talks between President Joe Biden and Chinese President Xi. While Biden's purpose was to convince Xi to decline Russian requests for military and economic aid, it's unclear if he succeeded. However ambiguous they were about agreeing to neutrality, Chinese leadership was clear about one thing earlier this week. "China's foreign minister, Wang Yi, says Beijing wants to avoid being impacted by U.S. sanctions over Russia's war with Ukraine. 'China is not a party to the crisis, nor does it want the sanctions to affect China,' Wang said Monday…"
So as we entertain the debate, to drill or not to drill, in the name of sustainability, the U.S. must begin to frame energy conversations as a member of the global community with the realization that many other countries will depend on LNG for years. It's not simply a matter of what we do at home when it comes to energy consumption and production. Rather, we should consider how sound domestic energy policy can be used to advance international stability.
If You Still Need Convincing…
And if that doesn't convince you, maybe this will…" High intensity conflicts require and consume vast quantities of fuel, leading to massive CO2 emissions and contributing to climate change. Large scale vehicle movements can lead to widespread physical damage to sensitive landscapes and geodiversity, as can the intensive use of explosive ordnance. The use of explosive weapons in urban areas creates vast quantities of debris and rubble, which can cause air and soil pollution. Pollution can also be caused by damage to light industry and environmentally sensitive infrastructure such as water treatment plants. The loss of energy supplies can have reverberating effects that are detrimental to the environment, shutting down treatment plants or pumping systems, or can lead to the use of more polluting fuels or domestic generators."
---
Natural Gas Market Report – March 17, 2022
April NYMEX
April settled Thursday at $4.990/Dth, up 24.2 cents from Wednesday's close at $4.748/Dth, and up 35.9 cents over the prior week.
12 Month Strip
Settled Thursday at $5.115/Dth, up 31.6 cents from the prior week.
Seasonal Strips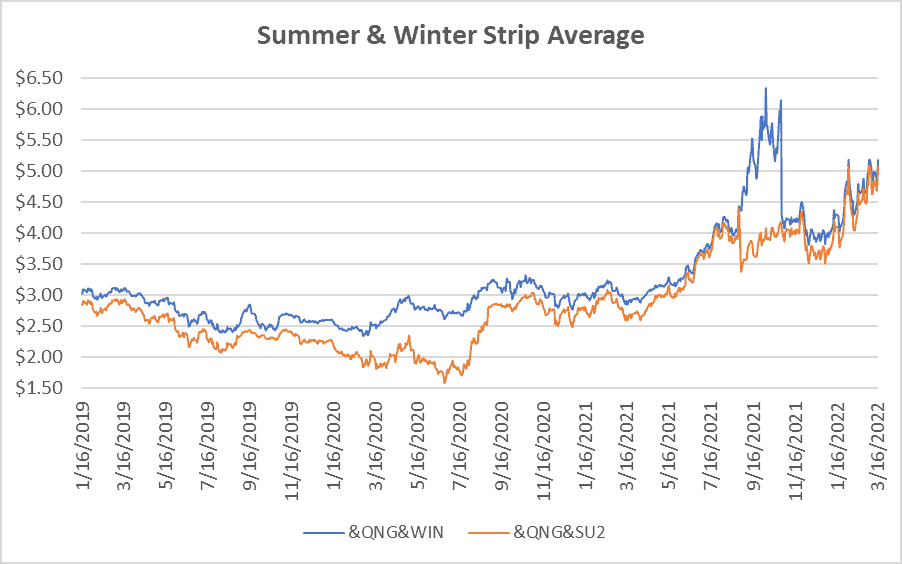 The summer strip (APR22-OCT22) settled at $5.074/Dth, up 33.7 cents from the week prior.
The winter forward (NOV22-MAR23) settled Thursday at $5.172/Dth, up 28.6 cents from the week prior.
Calendar Years 2022/2023/2024
CY22 settled Thursday at $5.114/Dth, up 33.1 cents from the prior week.
CY23 settled Thursday at $4.048/Dth, up 10.9 cents from the prior week.
CY24 settled Thursday at $3.507/Dth, up 3.2 cents from the prior week.
Crude Oil
Settled Thursday at $102.98/barrel, down $3.04 from the prior week.
---
Need Help Making Sense of Natural Gas Prices?
Give us a call. We can help you manage risk and navigate the current price volatility.
We'll evaluate your current contract and explore your natural gas buying options.
Call us at 866-646-7322 for a no-cost, no-obligation analysis today.