Natural Gas Storage Summary
For natural gas report week, June 18, 2020, the EIA reported a net increase in storage of 85 Bcf. The build was in line with forecasts of injections ranging from 76 Bcf to 89 Bcf, averaging 84 Bcf. Last year for the same week there was an injection of 111 Bcf and the five-year average is an injection of 87 Bcf.
Working gas in storage was 2,892 Bcf as of Friday, June 12th, 2020 per EIA estimates. Inventory was reported at 722 Bcf (33.3%) higher than last year for the same week and 419 Bcf (16.9%) more than the five-year average of 2,473 Bcf.
Natural Gas Market Recap
July NYMEX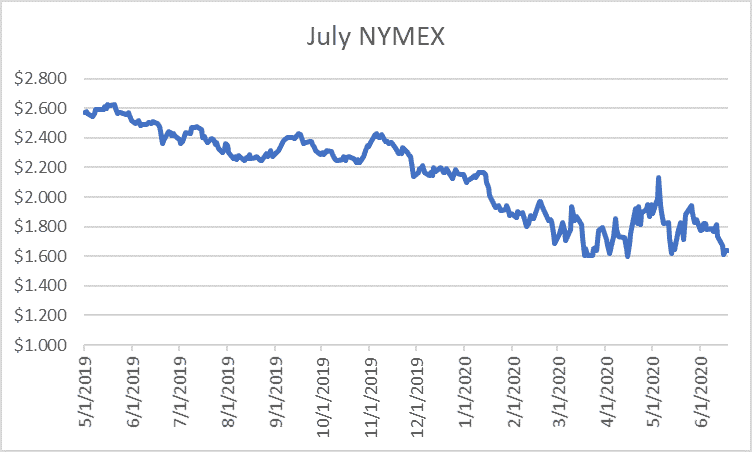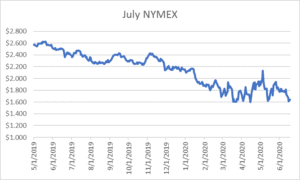 July settled Thursday at $1.638/Dth, unchanged from Wednesday's close.
12 Month Strip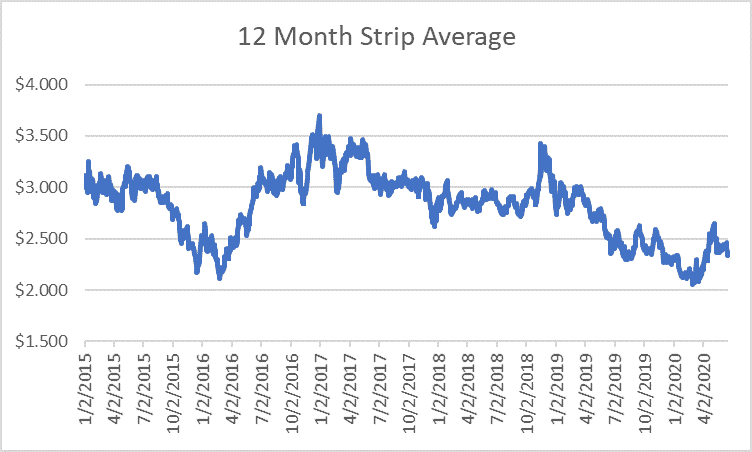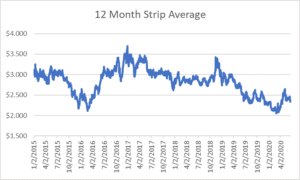 Settled Thursday at $2.362/Dth, down 9.9 cents from the prior week.
Seasonal Strips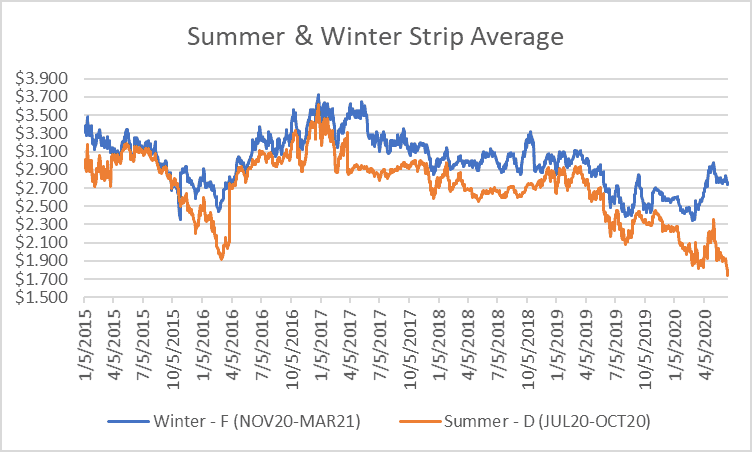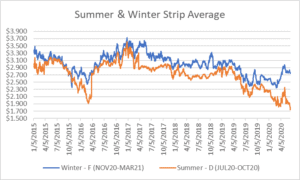 The summer strip (JUL20-OCT20) settled Thursday at $1.762/Dth, down 16.6 cents from the week prior. The winter strip (NOV20-MAR21) settled at $2.757/Dth, down 8.5 cents from last week. 
Natural Gas Weekly
Natural Gas Report – June 18, 2020
Natural Gas Fundamentals
Overall supply averaged 93.9 Bcf/d last week as production grew by 0.5% while imports from Canada dropped by 5.5%.
The average rate of injections into storage is 14% more than that of the five-year average for this point in the refill season. If the injection rate matched the five-year average of 8.9 Bcf/d through the end of refill season (October 31st), withdrawal season would begin with 4,142 Bcf in storage, which is 419 Bcf higher than the five-year average of 3,723 Bcf.
Total demand fell by 7.1% from the prior report week, averaging 74.2 Bcf/d. Consumption for power generation declined by 15.6%.  Likewise, exports to Mexico decreased 4.7%. Residential-commercial consumption grew by 4.8% and industrial demand increased by 2.2% from last week. LNG exports increased by three LNG vessels to eight with a combined carrying capacity of 29 Bcf.
The number of rigs in operation remained steady at 300 according to data from Enverus.
Natural Gas Prices 
Across the report week, the Henry Hub spot price fell 22 cents before hitting a low of $1.38/MMBtu on Tuesday, the lowest price since December 1998, according to Natural Gas Intelligence. Elsewhere spot prices fell as prompt month, 12-month and seasonal prices also declined week-over-week. Despite the modest injection, weakened demand for power generation from mild temperatures and lower LNG demand dove prices lower. As COVID-19 cases appear to be on the rise in roughly a dozen states, related market uncertainty may be complicating price recovery. Additional production cuts may be necessary to restore profitability for producers.
Natural Gas and Oil Giant to File for Bankruptcy
According to an exclusive to Reuters, Chesapeake Energy Corporation is planning to file for bankruptcy. "The company is also in talks with creditors to "roll up" some of its existing debt and make it part of the bankruptcy loan, bringing the total debtor-in-possession financing closer to $2 billion, the sources added. The company is reeling under a mountain of debt totaling more than $9 billion." Read the rest of the article here.