Natural Gas Storage Summary
For natural gas report week, January, 23, 2020, the EIA reported a net decrease in natural gas storage of 92 Bcf, in line with projections ranging from a withdrawal of 79 Bcf to a draw of 103 Bcf. Last year for the same week there was a withdrawal of 152 Bcf and the five-year average is a withdrawal of 194 Bcf.
Working gas in storage was 2,947 Bcf as of Friday, January 17th, 2020 per EIA estimates. Inventory was reported at 554 Bcf (23.2%) higher than last year for the same week and 251 Bcf (9.3%) more than the five-year average of 2,696 Bcf.
Natural Gas Market Recap
February NYMEX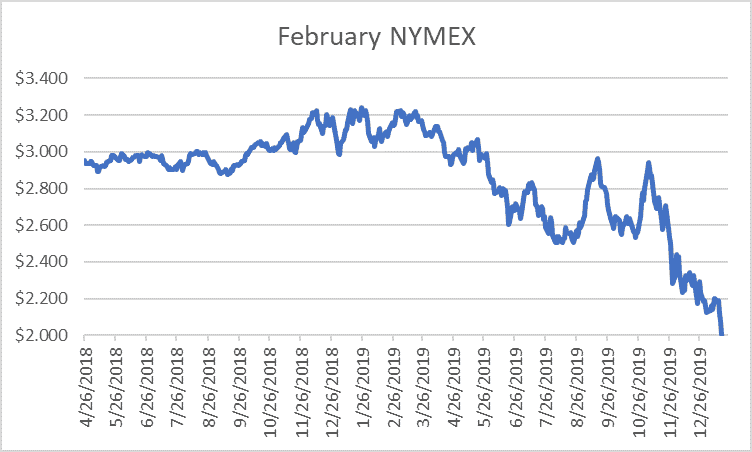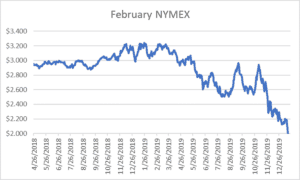 Settled Thursday at $1.926/Dth, up 2.1 cents from Wednesday's close at $1.905/Dth.
12 Month Strip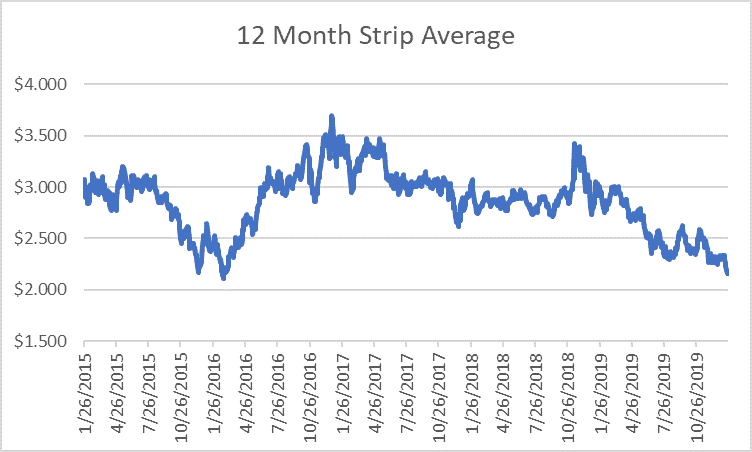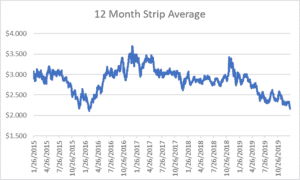 Settled Thursday at $2.161/Dth, down 10.8 cents from last Thursday.
Seasonal Strips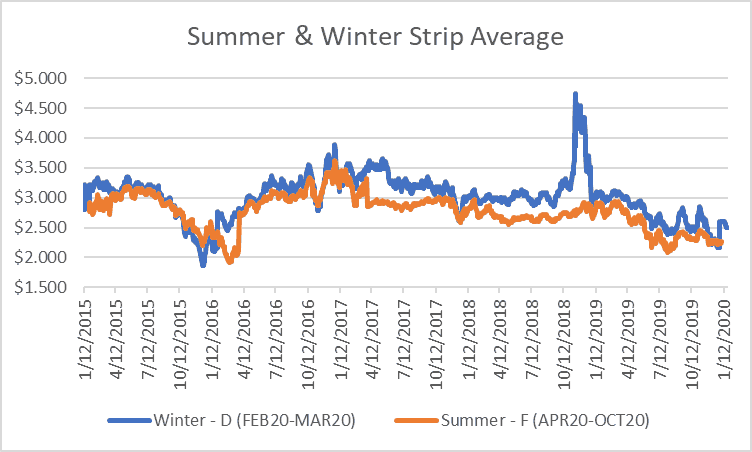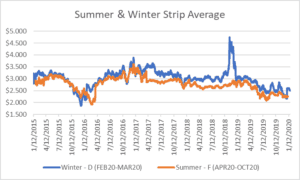 The winter strip settled Thursday at $2.494/Dth, down 7.7 cents from last Thursday. The summer strip settled Thursday at $2.097/Dth, down 11.0 cents from the prior week.
Natural Gas Weekly
Natural Gas Report – January 23, 2020
Fundamentals
Overall supply grew by 1% from last week. Average net imports from Canada increased by 62% in response to higher heating-related demand during the first half of the week, specifically in the Northeast and Midwest. The weather drove consumption up by 17% with residential/commercial up by 27% and power generation up by 15%. Industrial demand rose 3% while exports to Mexico fell by 7%. So far this withdrawal season, the average rate of withdrawal is 22% less than the five-year average. If the rate of withdrawal from storage matched the five-year average of 13.5 Bcf/d from now until March 31, storage inventory would be 1,948 Bcf which is 251 Bcf higher than the five-year average of 1,697 Bcf.
Prices
Henry Hub spot prices fell to $1.89/Dth Wednesday, the lowest January price since 1999. Prompt month and strip prices also fell across the report week as the market confronted national and global oversupply conditions made worse by stunted winter demand impacted by above-average temperatures.
A Look Ahead 
It was really just a matter of time. Prompt month prices broke the $2 mark this week, largely in response to excess supply and forecasts signaling warmer temperatures for the next two weeks. It's good news for those of us who aren't fans of winter and others who have been waiting to see how low natural gas prices can go. Not in either group? Not to worry, NOAA is also predicting above-average snowfall and average temperatures for February and March…at least in the Midwest.