Natural Gas Storage Summary
For natural gas report week October 29, 2020, the EIA reported a net increase in storage of 29 Bcf. The build was in line with forecasts of injections ranging from 17 Bcf to 45 Bcf, averaging 37 Bcf. Last year for the same week there was an injection of 89 Bcf and the five-year average is 67 Bcf.
Working gas in storage was 3,955 Bcf as of Friday, October 23, 2020 per EIA estimates. Inventory was 285 Bcf (7.8%) higher than last year for the same week and 289 Bcf (7.9%) more than the five-year average of 3,666 Bcf.
Natural Gas Market Recap
December NYMEX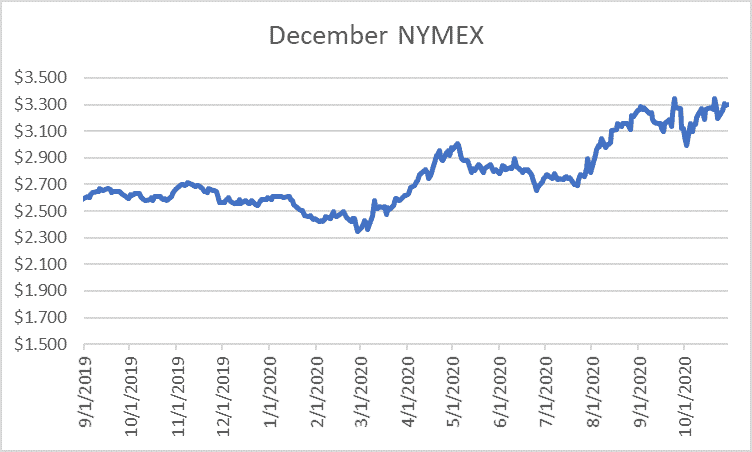 December settled Thursday at $3.301/Dth, up a penny from Wednesday's close at $3.291/Dth.
November moved off the board Tuesday, October 29th, settling the month at $2.996/Dth.
12 Month Strip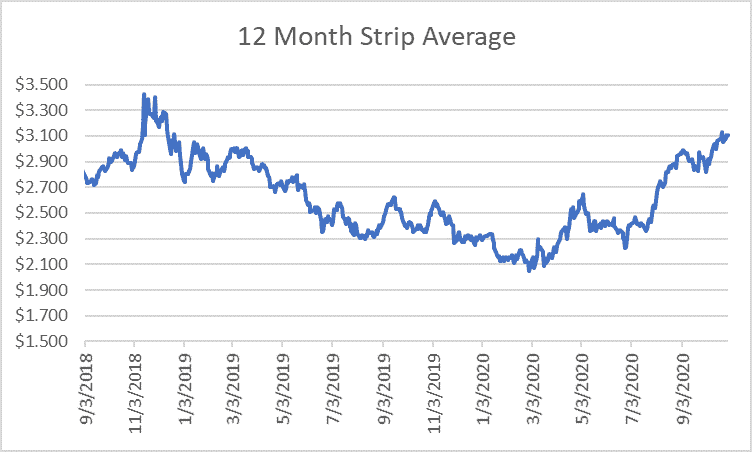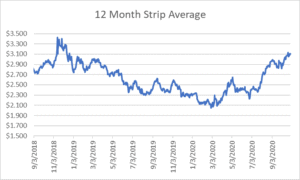 Settled Thursday at $3.107/Dth, up 1.8 cents from the prior week.
Seasonal Strips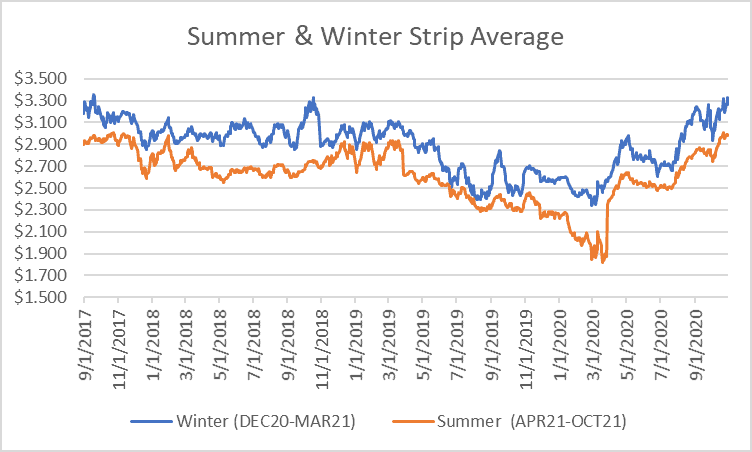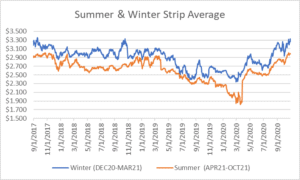 The winter strip (DEC20-MAR21) settled Thursday at $3.329/Dth, up 7.5 cents from the week prior. Looking forward to next summer (APR21-OCT21), the strip settled Thursday at $2.983/Dth, up 1.2 cents from the week prior.
Natural Gas Weekly
Natural Gas Report – October 29, 2020
Natural Gas Fundamentals
Overall supply averaged 92.0 Bcf/d last week as production decreased by 1.3%. Meanwhile, imports from Canada increased by 31.9%.
Total demand grew by 7.0% from the prior report week, averaging 93.6 Bcf/d. Residential-commercial demand grew by 26.5% due to increased consumption for heating. Consumption for power generation fell by 1.0%. Industrial demand increased by 3.2% while exports to Mexico fell by 1.9%.
LNG pipeline receipts are up by 1.1 Bcf/d. Sixteen LNG vessels with a combined carrying capacity of 58 Bcf departed the U.S. between October 22 and October 28, 2020.
The number of rigs in operation increased by seven, up to 336 according to data from Enverus. Baker Hughes rig data shows natural gas specific rigs decreased by one from last week, down to 73.