For natural gas report week August 19, 2021, the EIA reported a net increase in storage of 46 Bcf. The injection was at the high end of forecasts which ranged from 19 Bcf to 50 Bcf and averaged 34 Bcf. In comparison, last year for the same week there was an injection of 45 Bcf and the five-year average is an injection of 42 Bcf.
Working gas in storage was 2,822 Bcf as of Friday, August 13, 2021 per EIA estimates. Inventory was 547 Bcf (-16.2%) less than last year for the same week and 174 Bcf (-5.8%) below the five-year average of 2,996 Bcf.
Natural Gas Market Recap
September NYMEX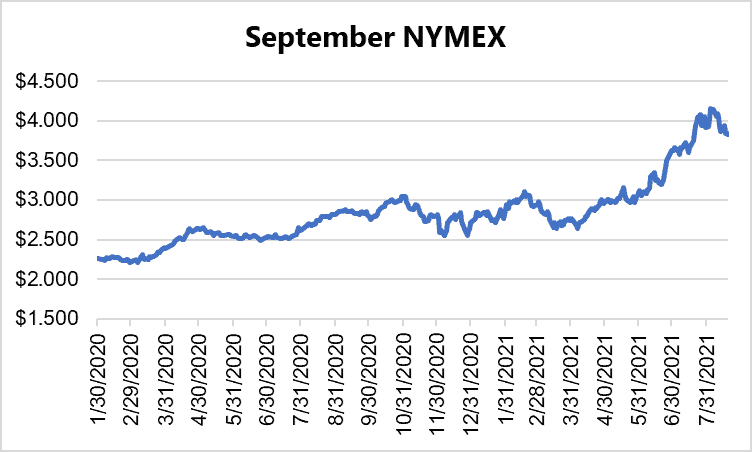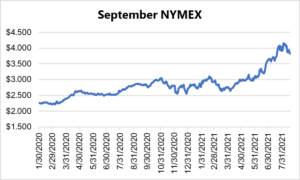 12 Month Strip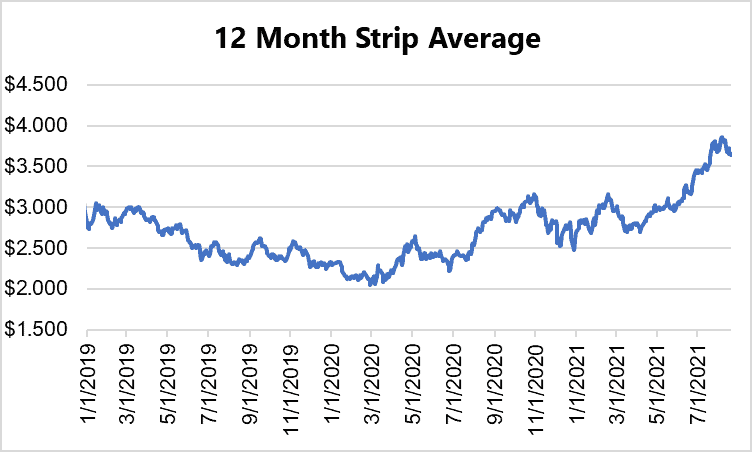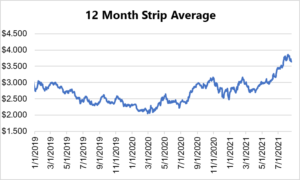 Seasonal Strips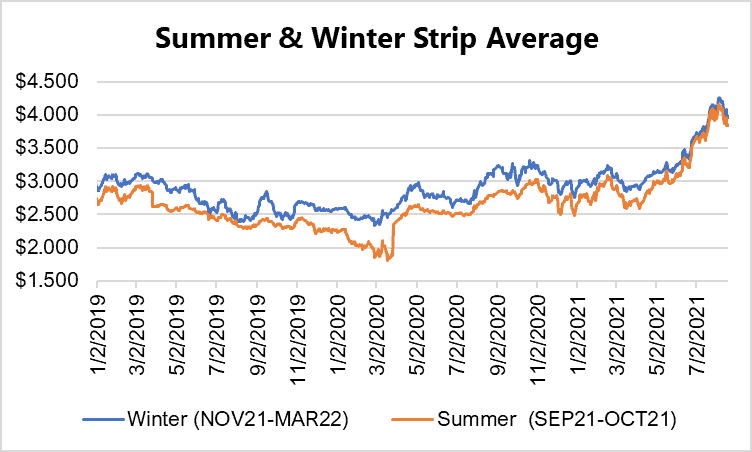 Natural Gas Report – August 19, 2021
Fundamentals
Overall supply averaged 98.0 Bcf/d last week as production remained steady and imports from Canada rose slightly by 1.1%.
Total demand grew by 0.6% from the prior report week, averaging 91.1 Bcf/d. Residential-commercial and power generation demand fell by 1.0% and 0.2%, respectively. Meanwhile, LNG pipeline receipts averaged 10.7 Bcf/d, growing 0.9 Bcf/d week over week.
Up to this point in injection season, the average rate of injections is 12% lower than the five-year average. If the rate of injections matched the five-year average of 9.2 Bcf/d, inventory would be 3,545 Bcf at the close of refill season. That's 174 Bcf lower than the five-year average of 3,719 Bcf.
---
Natural Gas Prices
More moderate temperatures led to declining demand over prior weeks when increased need for cooling drove consumption for power generation. With continued moderate temperatures forecast through the end of August, both spot prices and NYMEX forwards also cooled. Additionally, the EIA's latest Short Term Energy Outlook projects storage totals as of the end of withdrawal season (March 31, 2022) at 1,379 Bcf. Perhaps with the confidence that storage won't bottom out over winter, spring -22 prices further deflated.
DEC21, settled at $4.019/Dth, down 12.0 cents
JAN22, settled at $4.081/Dth, down 12.7 cents
FEB22, settled at $4.005/Dth, down 12.5 cents
MAR22, settled at $3.759/Dth down 11.4 cents
APR22, settled at $3.255/Dth down 9.0 cents
Strips
24 Month, settled at $3.388/Dth down 8.2 cents
36 Month, settled at $3.221/Dth down 6.7 cents
---
Do you have the best natural gas contract for your business?
We can help you evaluate your current contract and explore your natural gas buying options. Call us at 866-646-7322 for a no-cost, no-obligation analysis today.