Natural Gas Storage Summary
For natural gas report week, April 2, 2020, the EIA reported a net decrease in storage of 19 Bcf, in line with projections ranging from a withdrawal of 10 Bcf to a draw of 35 Bcf. Last year for the same week there was a injection of 6 Bcf and the five-year average is a withdrawal of 19 Bcf.
Working gas in storage was 1,986 Bcf as of Friday, March 27th, 2020 per EIA estimates. Inventory was reported at 863 Bcf (76.8%) higher than last year for the same week and 292 Bcf (17.2%) more than the five year average of 1,694 Bcf.
Natural Gas Market Recap
May NYMEX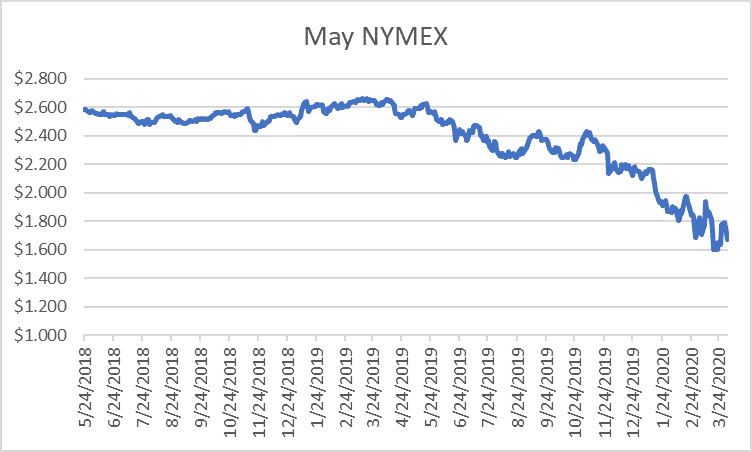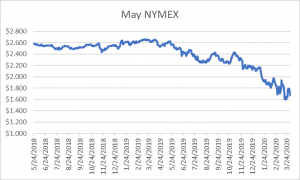 April NYMEX: Moved off the board Friday, March 27th, settling the month at $1.634/Dth.
May NYMEX: Settled Thursday at $1.672/Dth down 4.0 cents from Wednesday's close at $1.712/Dth.
12 Month Strip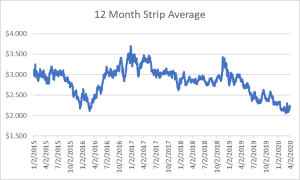 Settled Thursday at $2.196/Dth, up 3.5 cents from last Thursday.
Seasonal Strips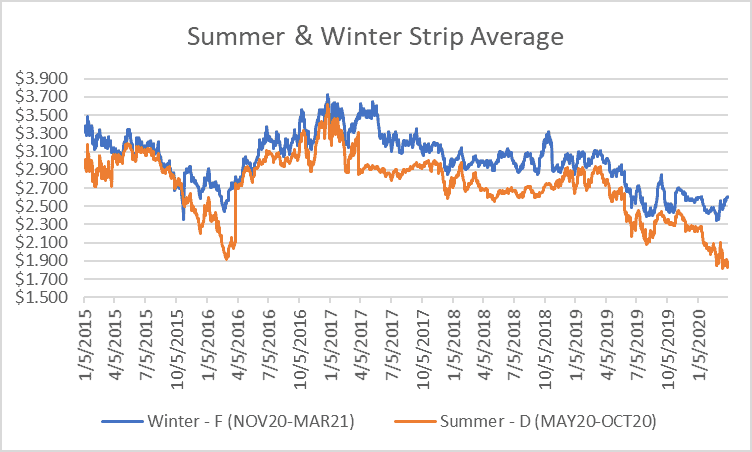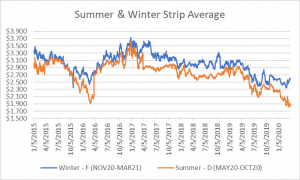 The summer diminishing strip (MAY20-OCT20) settled Thursday at $1.828/Dth, down 4.9 cents from the prior week. The winter forward strip (NOV20-MAR21) settled Thursday at $2.601/Dth, up 4.3 cents from last Thursday.
Natural Gas Weekly
Natural Gas Report – April 2, 2020
Natural Gas Fundamentals
Overall supply averaged 97.5 Bcf/d last week as production remained unchanged and average net imports from Canada decreased by 14% due to declining imports into upstate New York. Total demand fell by 7% from the prior report week with power-generation and industrial consumption both down by 7% and 4%, respectively. Residential/commercial consumption dropped by 10% while exports to Mexico fell by 2%. LNG exports increased from last week, down to 19 (+4) LNG vessels with a combined carrying capacity of 70 Bcf (+15 Bcf). The rig count continued to drop week-over-week down from 739 to 652.
Natural Gas Prices 
Generally prices, from prompt month trading to spot prices, fell across the report week although not dramatically. While still assessing the impact of orders that have nearly 94% of Americans at home and an oil trade dispute between Russian and Saudi Arabia, the lack of immediate clarity leaves little clear direction for market expectations. Even as COVID-19 financial implications threaten market stability, oil prices grew this week in response to President Trump's Twitter announcement of a possible cooperative effort between Russia and Saudi Arabia to scale back oil production. The suggestion offered some hope of stability for oil and gas prices.
COVID-19 Resources
This week Ohio extended the Stay at Home order which will now remain in place through Friday, May 1 or until lifted or otherwise amended. We will continue to comply with this order while continuing to deliver full account support remotely.
Those in need of economic support during this time can find help through a variety of resources found on the Ohio Department of Health website here.
Finally, there are several new scams targeting individuals and businesses alike. Please protect yourself and your business – familiarize yourself with common scams and report suspicious activity to the Ohio Attorney General. You can find that information here. As always, we are here to help.