Natural Gas Price Analysis
Natural gas report week, November 11, 2021 brought a second consecutive week of considerable price retreats alongside increasing production which has continued keep pace with growing heating demand. As a result, injection season lived to see another week with a 7 Bcf addition to storage. Despite the continued builds, prices have remained volatile.
Why and what might that mean for winter?
Expect Continued Volatility
This is the time of year when colder weather leads to increased demand for winter heating. Typically, at some point in November, demand outpaces production and weekly storage injections turn into withdrawals. As injection season wanes, focus centers on storage totals, specifically total storage levels compared to the five-year average. The greater the disparity between current storage levels and the five-year average, relative to the start of winter heating season, the more likely the market is to climb. Throw in some cold weather and it's fair to anticipate more price support.
As such, some volatility this time of year, when temperatures roller coaster their way into winter, is to be expected. But the extremes have been a bit more pronounced than what is typical. According to the Wall Street Journal, this week's price movement was noteworthy, "It was the 14th time over the last 35 trading days that prices moved more than 5% up or down. On Thursday, the price climbed 5.5%. On Tuesday, it was dropped 8.3%."
While analysts continue to gauge the most likely impact of the forecasted La Nina weather pattern for this winter, they're keeping an eye on what's unfolding in Europe where supply shortages have consumers and the market similarly nervous. This has been the subject of our attention of late, as there's been some skepticism that Russia can/will deliver on their agreement to increase natural gas deliveries to help allay supply concerns. Indeed, this week, Russia has signaled they may default on this promise.
What's that all mean for prices? Right now, the EIA expects prices to average $5.53 between November and February.
JAN22, settled at $5.245/Dth, down 58.1 cents
FEB22, settled at $5.116/Dth, down 57.6 cents
MAR22, settled at $4.802/Dth down 54.7 cents
APR22, settled at $4.104/Dth down 3.3 cents
MAY22, settled at $4.024/Dth up a penny
JUN22, settled at $4.051/Dth up 1.3 cents
A Learning Opportunity: The Future of Buying Energy For Your Business
We're excited to share a new resource with you – one that's founded on the belief that renewable energy should be easy for business decisionmakers to understand and implement. We want to help you get in front of the changes coming to the energy industry – beginning with education and planning.
Learn from energy industry experts as they identify renewable solutions for businesses of all sizes, discuss options for buying, weigh the benefits, and outline the practical steps you can take to make it happen for your business.
How to Finance Renewable Energy Projects
How to Present an Energy Project to Your Management Team
​Carbon Reporting: Why and How
Renewable energy is quickly becoming a significant issue confronting businesses so it's important to begin proactive planning today. This virtual conference is a simple step in getting started.
For more information and to register, visit https://www.energycoalitionohio.org/oec
---
Natural Gas Market Report – November 11, 2021
December NYMEX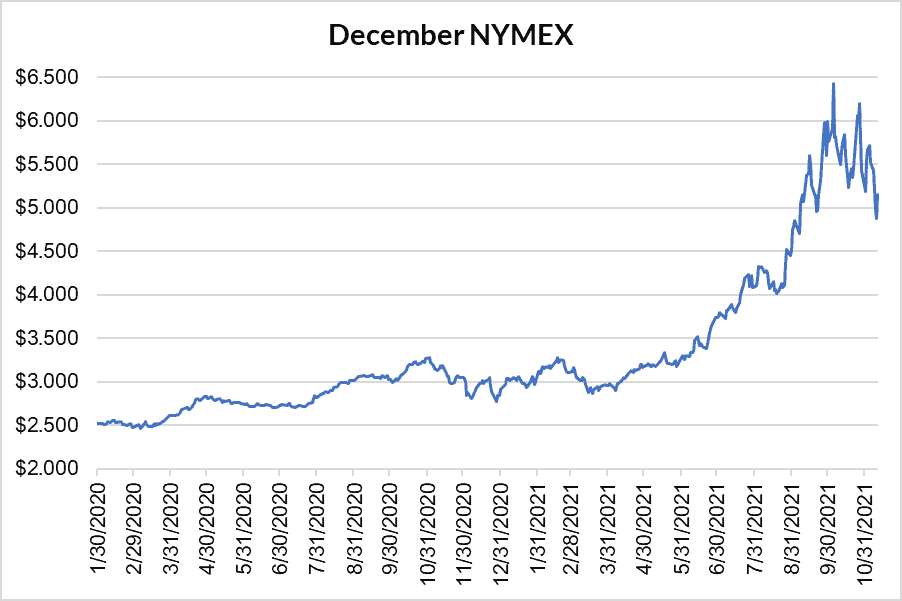 December settled Thursday at $5.149/Dth up 26.9 cents from Wednesday's close at $4.880/Dth, but down 56.7 cents week over week.
12 Month Strip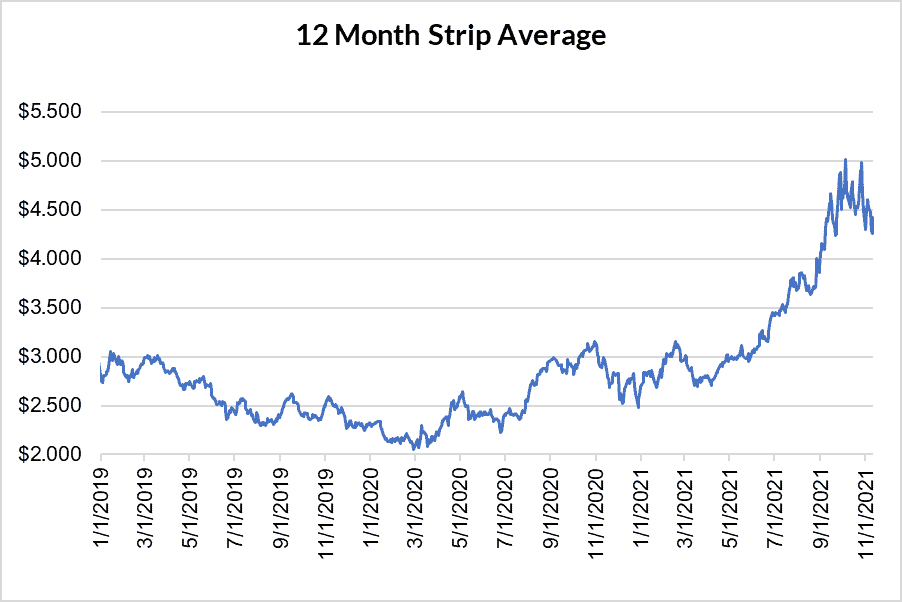 Settled Thursday at $4.419/Dth, down 18.6 cents from the prior week.
Seasonal Strips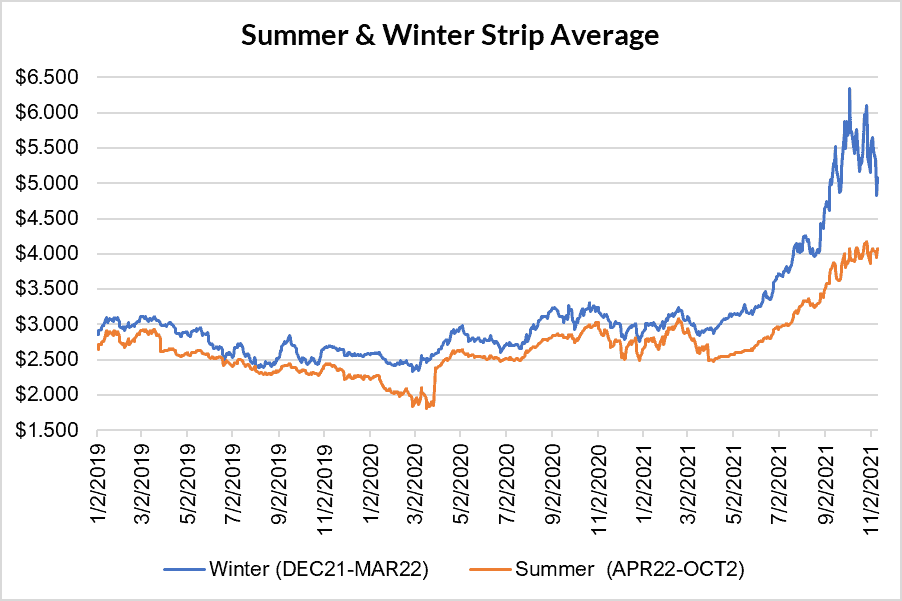 The winter strip (DEC21-MAR22) settled Thursday at $5.078/Dth, down 56.8 cents from the week prior. The summer strip (APR22-OCT22) settled Thursday at $4.077/Dth, up less than a penny from the week prior.
Calendar Years 2022/2023/2024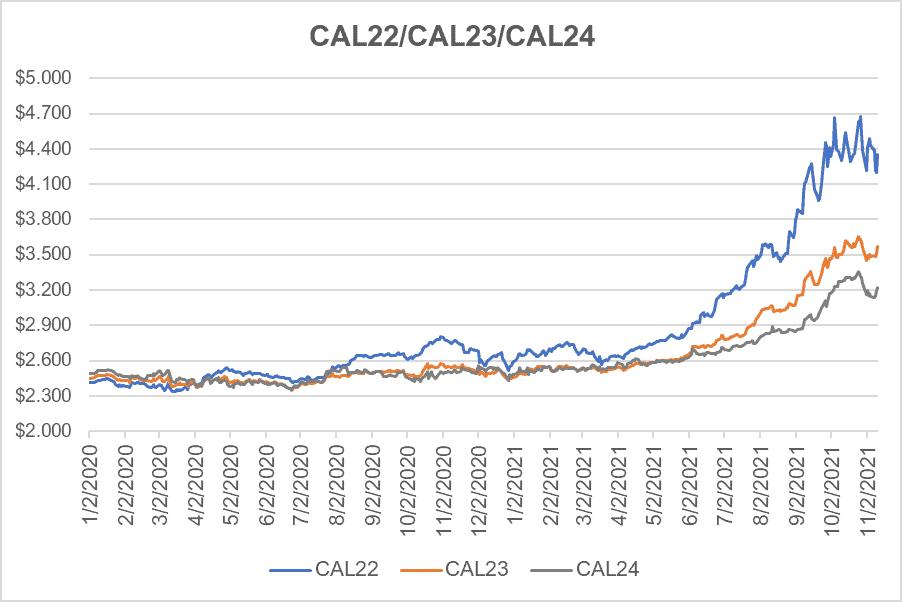 CY22 settled Thursday at $4.352/Dth, down 13.8 cents from the prior week.
CY23 settled Thursday at $3.574/Dth, up 7.6 cents from the prior week.
CY24 settled Thursday at $3.225/Dth, up 5.1 cents from the prior week.
---
Prices Have You Uneasy?
Give us a call. We can help you manage risk and navigate the current price volatility.
We'll evaluate your current contract and explore your natural gas buying options.
Call us at 866-646-7322 for a no-cost, no-obligation analysis today.Learn More