For natural gas report week May 27, 2021, the EIA reported a net increase in storage of 115 Bcf. The build exceeded forecasts ranging from injections of 96 Bcf to 111 Bcf, averaging 106 Bcf. Last year for the same week there was an injection of 105 Bcf and the five-year average is an injection of 91 Bcf.
Working gas in storage was 2,215 Bcf as of Friday, May 21, 2021 per EIA estimates. Inventory was 381 Bcf (-14.7%) less than last year for the same week and 63 Bcf (-2.8%) below the five-year average of 2,278 Bcf.
Natural Gas Market Recap
July NYMEX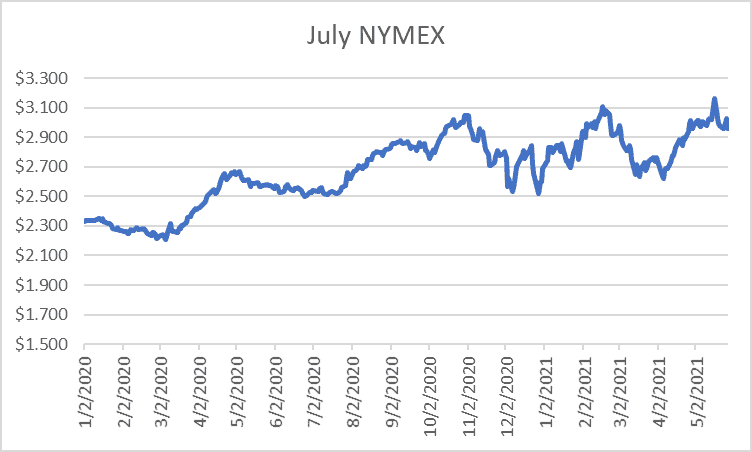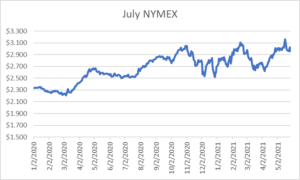 June NYMEX: June moved off the board Wednesday, May 26th, settling the month at $2.984/Dth.
July NYMEX: Settled Thursday at $2.958/Dth, down 6.9 cents from Wednesday's close at $3.027/Dth.
12 Month Strip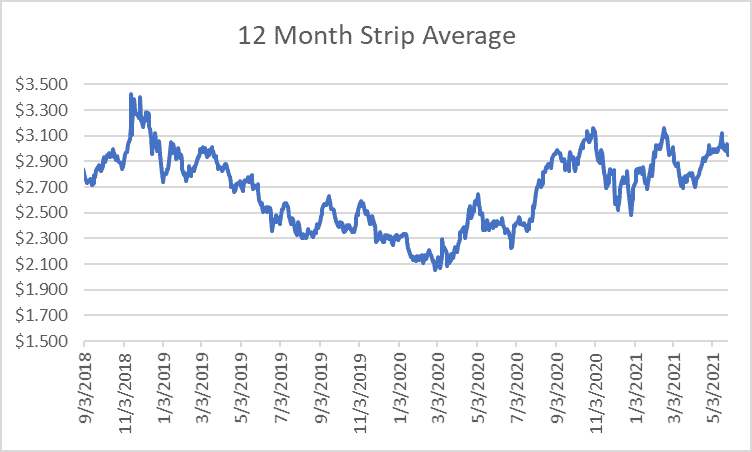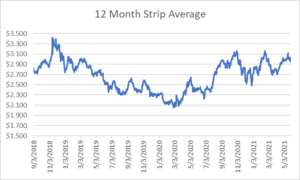 Settled Thursday at $2.951/Dth, down 5.0 cents from the prior week.
Seasonal Strips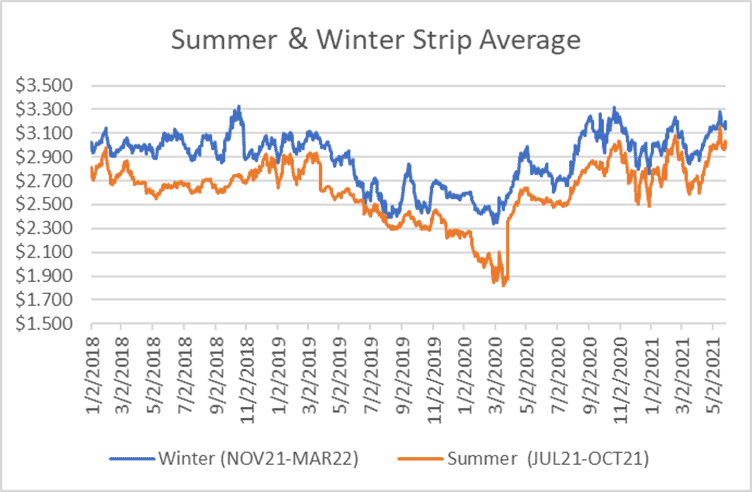 The summer strip (JUL21-OCT21) settled Thursday at $2.976/Dth, down 1.3 cents from the week prior. The winter strip (NOV21-MAR22) settled Thursday at $3.138/Dth, down 3.3 cents from the week prior.
Natural Gas Weekly
Natural Gas Report – May 27, 2021
Natural Gas Fundamentals
Overall supply averaged 96.7 Bcf/d last week as production grew by 0.7%, week over week. Meanwhile, imports from Canada fell slightly by 0.2%.
Total demand rose by 2.8% from the prior report week, averaging 82.7 Bcf/d. Residential-commercial use decreased by 17.1% while consumption for power generation grew by 15.4% as demand shifted from heating to cooling. Industrial demand declined by 3.1% and exports to Mexico increased by 1.3%.
LNG pipeline receipts averaged 10.5 Bcf/d. Eighteen LNG vessels with a combined carrying capacity of 67 Bcf departed the U.S. between May 20 and May 26, 2021. Baker Hughes rig data shows the overall number of rigs in operation increased by two, up to 455. Natural gas specific rigs decreased by one from last week, down to 99.
---
Natural Gas Prices
Spot prices remained mixed in response to high production and varied temperatures throughout the country. Looking at the NYMEX, price strength is consolidating around the near term winter months (as of the time of publication, DEC21,$3.214/Dth; JAN22,$3.291/Dth; FEB22, $3.215/Dth) with prices dropping off sharply by APR22. This suggests that despite this week's sizable injection that resulted in the first contraction in the deficit to the five-year average in over a month, the expectation is that this is an exception, rather than the norm for the remainder of the summer. Forecasts have alluded to a particularly hot summer which would result in increased demand for power generation and consequently smaller injections. This set up could mean supply constraints at the beginning of winter heating season and this appears to be driving market focus, at least for now.
---
Will The Cooler Winds of Pragmatism Prevail?
Despite talking points that proclaim aggressive carbon reduction targets, there's evidence of disparity between what the administration is touting and what key decision makers believe.
Last week, "The International Energy Agency said in its "Net Zero by 2050" report last week that investors should not fund new oil, gas and coal supply projects beyond this year if the world wants to reach net zero emissions by mid-century and meet the goals of the 2015 Paris Agreement on climate change."
Given the frequent media refrain of the U.S.'s adoption of IEA goals for net zero by 2050, it may be surprising that Gina McCarthy, President Biden's top domestic climate official, is pushing for pragmatic action. In an interview with Axios, she stated planning must not put climate at odds with jobs, ""Now is not the time to sit them down and say: 'Let's talk about climate. How can you sacrifice?' … It's never going to be a winning strategy. Right now, it's ridiculous." According to McCarthy, energy companies have made significant steps in setting emissions targets for their own organizations and she believes relying on such initiatives can help the U.S. make significant contributions toward national sustainability goals. Check out the rest of the Axios interview here.
---
Do you have the best natural gas contract for your business?
We can help you evaluate your current contract and explore your natural gas buying options. Call us at 866-646-7322 for a no-cost, no-obligation analysis today.