For natural gas report week June 17, 2021, the EIA reported a net increase in storage of 16 Bcf following reclassification of 51 Bcf. Forecasts ranged from injections of 58 Bcf to 81 Bcf, averaging 71 Bcf. Last year for the same week there was an injection of 86 Bcf and the five-year average is an injection of 87 Bcf.
Working gas in storage was 2,427 Bcf as of Friday, June 11, 2021 per EIA estimates. Inventory was 453 Bcf (-15.7%) less than last year for the same week and 126 Bcf (-4.9%) below the five-year average of 2,553 Bcf.
Natural Gas Market Recap
July NYMEX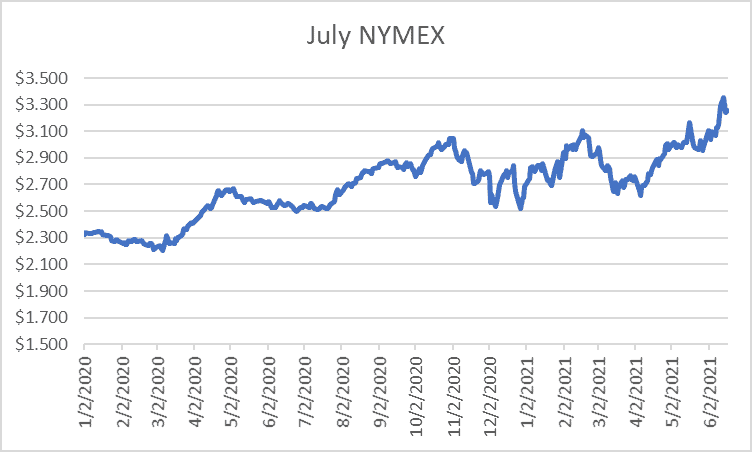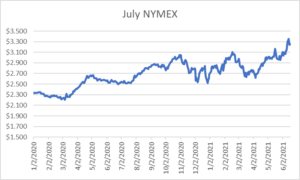 Settled Thursday at $3.253/Dth, up less than a penny from Wednesday's close at $3.251/Dth.
12 Month Strip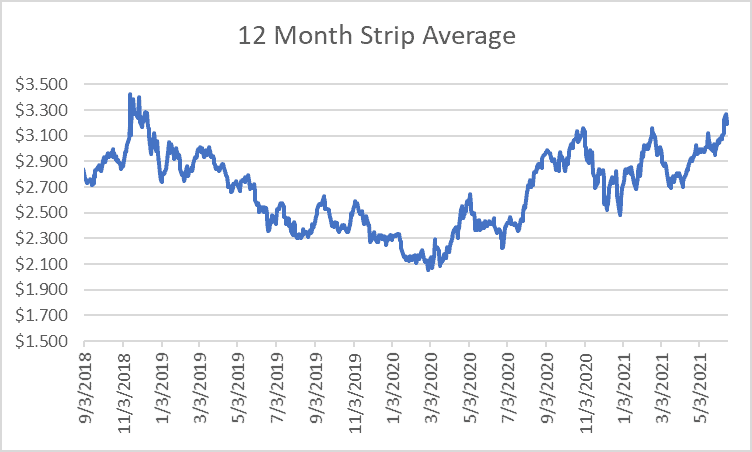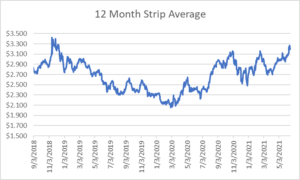 Settled Thursday at $3.204/Dth, up 8.6 cents from the prior week.
Seasonal Strips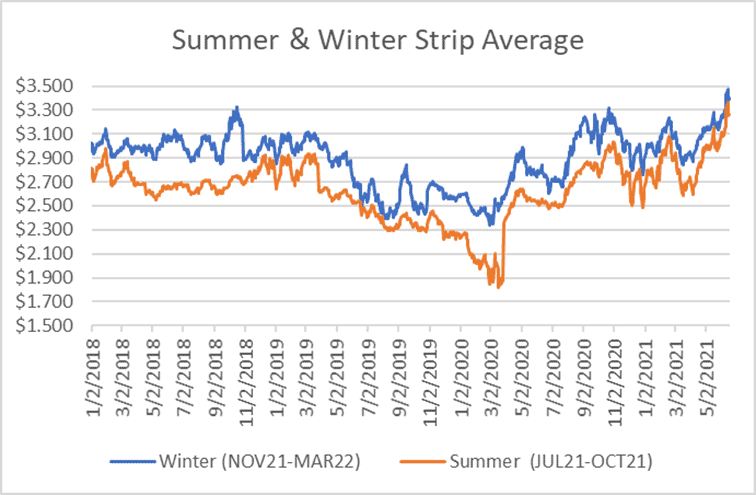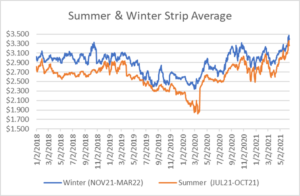 The summer strip (JUL21-OCT21) settled Thursday at $3.266/Dth, up 10.3 cents from the week prior. The winter strip (NOV21-MAR22) settled Thursday at $3.393/Dth, up 8.0 cents from the week prior.
Natural Gas Weekly
Natural Gas Report – June 17, 2021
Natural Gas Fundamentals
Overall supply averaged 97.9 Bcf/d last week as production decreased by 0.5%, week over week. Meanwhile, imports from Canada rose by 8.6%.
Total demand dropped by 0.1% from the prior report week, averaging 87.0 Bcf/d. Residential-commercial use dropped by 9.1% while consumption for power generation grew by 2.3%. Industrial demand fell by 0.3% and exports to Mexico increased by 4.6%. LNG pipeline receipts averaged 9.4 Bcf/d. Eighteen LNG vessels with a combined carrying capacity of 65 Bcf departed the U.S. between June 10 and June 16, 2021.
Baker Hughes rig data shows the overall number of rigs in operation decreased by five, up to 461. Natural gas specific rigs decreased by one from last week, down to 96.
Up to this point in injection season, the average rate of injections is 13% lower than the five-year average. If the rate of injections matched the five-year average of 8.2 Bcf/d, inventory would be 3,593 Bcf at the close of refill season. That's 126 Bcf lower than the five-year average of 3,719 Bcf.
---
Natural Gas Prices
Spot prices rose in most regions as the majority of the country continued to experience extremely warm temperatures. Although prompt month price movement was limited across the second half of the report week, NYMEX prices generally trended upward with each of the upcoming twelve months posting gains week over week. Specifically, for three consecutive weeks, DEC21, JAN22, and FEB22 have each gained more than 5.0 cents week over week.
DEC21, settled at $3.432, up 8.2 cents
JAN22, settled at $3.509, up 8.1 cents
FEB22, settled at $3.440, up 7.6 cents
---
The Pause On Oil and Gas Leasing…On Pause
This week, a Louisiana judge blocked the Biden administration's order to temporarily halt oil and gas lease of federal lands. Advanced for the stated purpose of controlling climate change, the open-ended order was reportedly issued to allow evaluation of the nation's current leasing program without a proliferation of new leases. Following the order, the Biden administration postponed leases in the Gulf of Mexico, Wyoming, Colorado, Montana and Utah. Nonetheless, since the order was issued, "…the Biden administration has continued to issue new permits for existing leases, including more than 200 in March…"
U.S. District Judge Terry A. Doughty found while the review of the existing policy is appropriate, suspension of the leasing program must have congressional approval. Interior Department subsequently expressed their intention to comply with Judge Doughty's ruling.
---
Do you have the best natural gas contract for your business?
We can help you evaluate your current contract and explore your natural gas buying options. Call us at 866-646-7322 for a no-cost, no-obligation analysis today.