Natural Gas Storage Summary
For natural gas report week, July 23, 2020, the EIA reported a net increase in storage of 37 Bcf. The build was in line with forecasts of injections ranging from 28 Bcf to 45 Bcf, averaging 36 Bcf. Last year for the same week there was an injection of 44 Bcf and the five-year average is 37 Bcf.
Working gas in storage was 3,215 Bcf as of Friday, July 17th, 2020 per EIA estimates. Inventory was reported at 656 Bcf (25.6%) higher than last year for the same week and 436 Bcf (15.7%) more than the five-year average of 2,779 Bcf.
Natural Gas Market Recap
August NYMEX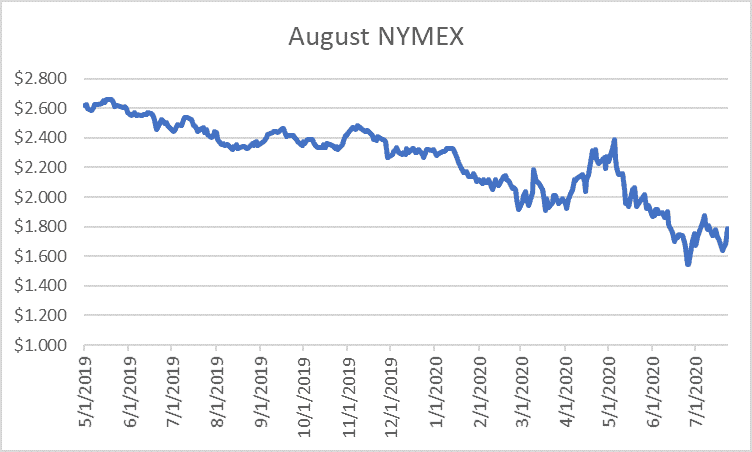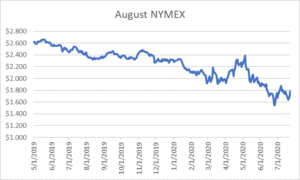 August settled Thursday at $1.785/Dth up 10.4 cents from Wednesday's close at $1.681/Dth.
12 Month Strip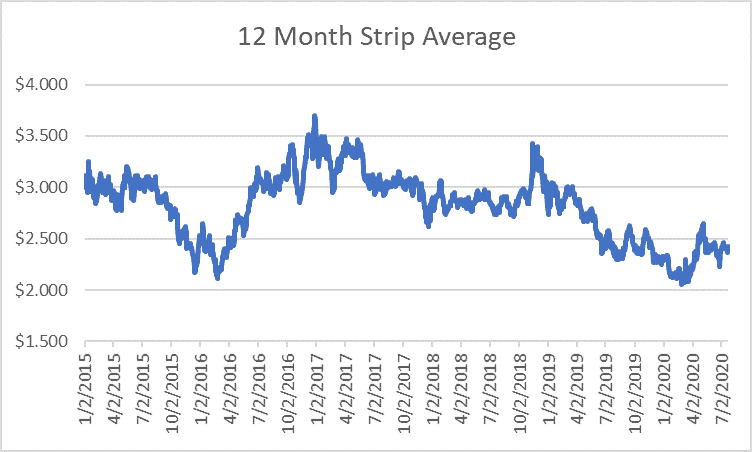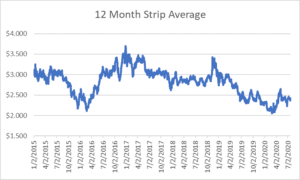 Settled Thursday at $2.422/Dth, up 1.5 cents from the prior week.
Seasonal Strips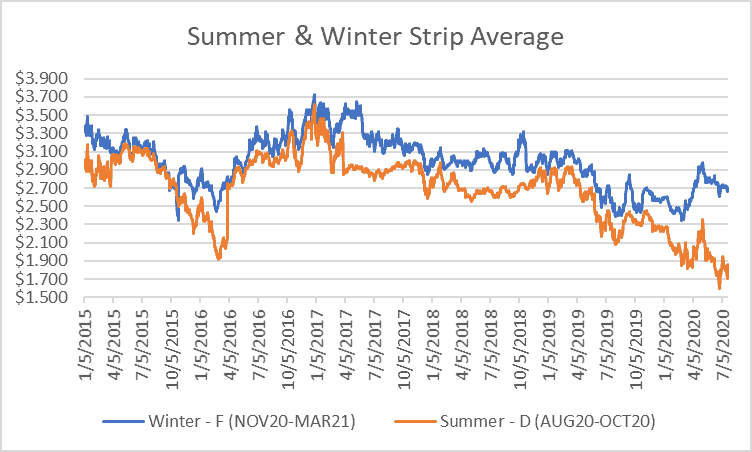 The summer strip (AUG20-OCT20) settled Thursday at $1.857/Dth, up 6.4 cents from the week prior. The winter strip (NOV20-MAR21) settled at $2.708/Dth, down less than a penny from last week.
Natural Gas Weekly
Natural Gas Report – July 23, 2020
Natural Gas Fundamentals
Overall supply averaged 94.4 Bcf/d last week as production grew slightly by 0.9% while imports from Canada fell by 3.1%.
The average rate of injections into storage is 12% more than that of the five-year average for this point in the refill season. If the injection rate matched the five-year average of 8.9 Bcf/d through the end of refill season (October 31st), withdrawal season would begin with 4,159 Bcf in storage, which is 436 Bcf higher than the five-year average of 3,723 Bcf.
Total demand grew by 1.0% from the prior report week, averaging 85.5 Bcf/d. Consumption for power generation increased by 0.8% and residential-commercial consumption grew by 4.1%. Industrial demand was unchanged and exports to Mexico fell by 0.7%.
LNG pipeline receipts increased slightly from 3.3 Bcf/d to 3.7 Bcf/d. Seven LNG vessels with a combined carrying capacity of 25 Bcf departed the U.S. between July 16 and July 22, 2020. That's up three vessels and 10 Bcf from last week.
The number of rigs in operation increased by 13 to 292 according to data from Enverus.
Ohio House Bill 6: In The Headlines Again
This week, Ohio Speaker of the House, Larry Householder and four other individuals were arrested on federal racketeering charges for their roles in Ohio's largest bribery conspiracy. Householder has been accused of accepting more than $60 million in bribes in exchange for his work pushing through Ohio HB6.
The hotly contested legislation was at the center of an effort to put the matter up for referendum. Subsequent to passage by the Ohio legislature, groups opposed to HB6 began a petition campaign to collect the signatures necessary for inclusion on the November ballot. Their efforts were met with substantial counter-campaign efforts led by dark money groups.
FirstEnergy Corp, former parent company of the beneficiary of the ratepayer-financed bailout amounting to about $170 million a year has received subpoenas in conjunction with the ongoing bribery investigation. They have affirmed their intention to cooperate fully while maintaining, "At no time did our support for Ohio's nuclear plants interfere with or supersede our ethical obligations to conduct our business properly," according to CEO Charles Jones.
Meanwhile Ohio legislators are working on a measure to repeal HB6. Some Ohio lawmakers would like to see HB6 replaced with similar legislation while others are advocating for a full repeal.
We'll continue to update you with developments on this story as the results are sure to impact Ohio ratepayers.