For natural gas report week July 22, 2021, the EIA reported a net increase in storage of 49 Bcf. The injection was in line with forecasts which ranged from 30 Bcf to 51 Bcf and averaged 44 Bcf. In comparison, last year for the same week there was an injection of 38 Bcf and the five-year average is an injection of 36 Bcf.
Working gas in storage was 2,678 Bcf as of Friday, July 16, 2021 per EIA estimates. Inventory was 532 Bcf (-16.6%) less than last year for the same week and 176 Bcf (-6.2%) below the five-year average of 2,854 Bcf.
Natural Gas Market Recap
August NYMEX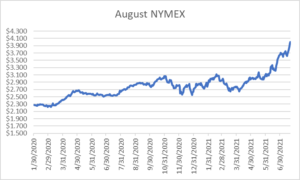 Settled Thursday at $4.003/Dth, up 4.4 cents from Wednesday's close at $3.959/Dth.
12 Month Strip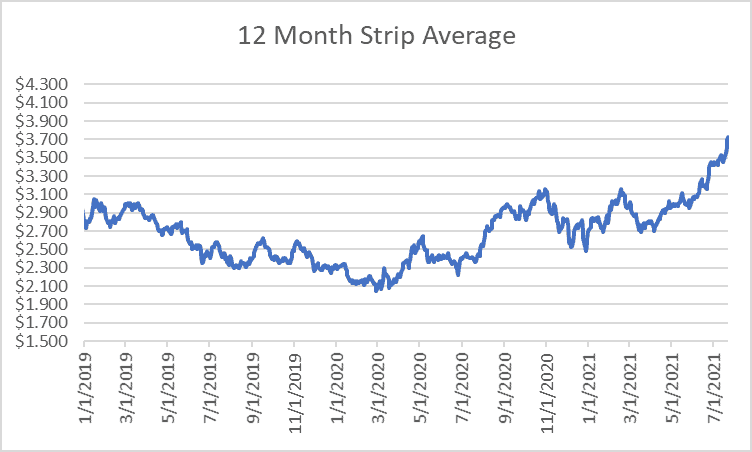 Settled Thursday at $3.729/Dth, up 27.8 cents from the prior week.
Seasonal Strips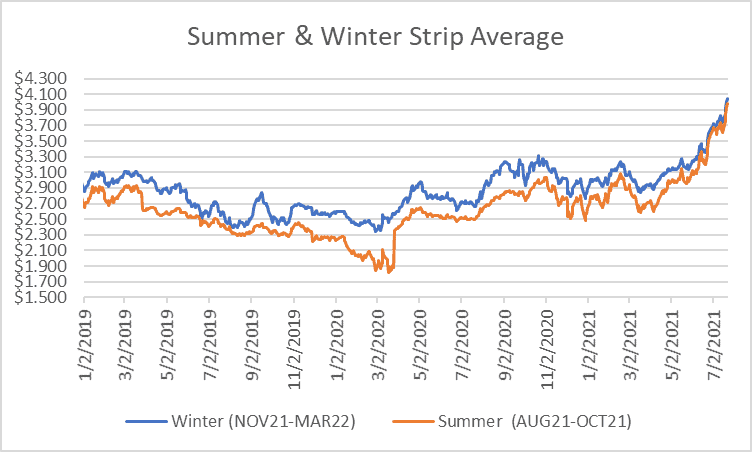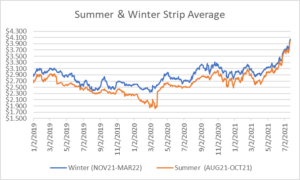 The summer strip (AUG21-OCT21) settled Thursday at $3.987/Dth, up 37.9 cents from the week prior. The winter strip (NOV21-MAR22) settled Thursday at $4.048/Dth, up 31.3 cents from the week prior.
Natural Gas Report – July 22, 2021
Fundamentals
Overall supply averaged 98.0 Bcf/d last week as production grew by 0.1%, week over week. Meanwhile, imports from Canada fell by 3.0%.
Total demand rose by 1.5% from the prior report week, averaging 89.8 Bcf/d. Residential-commercial demand fell by 0.2%. Use in power generation increased 3.3%. Meanwhile, LNG pipeline receipts averaged 10.4 Bcf/d, remaining steady week over week.
Up to this point in injection season, the average rate of injections is 14% lower than the five-year average. If the rate of injections matched the five-year average of 8.1 Bcf/d, inventory would be 3,543 Bcf at the close of refill season. That's 176 Bcf lower than the five-year average of 3,719 Bcf.
---
Natural Gas Prices
Spot prices generally increased week over week in response to increased demand for natural gas used in power generation. In most regions this was related to higher temperatures which drove cooling-related consumption. Elsewhere, decreased wind generation prompted increased reliance on natural gas for power generation.
While it seems like it was just yesterday we were wondering if prices could remain above $3.30/Dth mark, today we're looking at prompt month prices that just broke $4.00/Dth. The bullish sentiment impacted futures across the board. Despite a second consecutive week of injections that outpace the five-year average, the shift in weather forecasts for the end of July was enough to spark price response. With the highest temperatures of the summer forecast for next week, analysts' expectations for below-average storage injections suggest current price trends will continue for the near future.
DEC21, settled at $4.123/Dth, up 33.2 cents
JAN22, settled at $4.181/Dth, up 32.0 cents
FEB22, settled at $4.092/Dth, up 30.6 cents
MAR22, settled at $3.813/Dth up 25.6 cents
APR22, settled at $3.184/Dth up 16.5 cents
Strips

24 Month, settled at $3.390/Dth up 19.5 cents
36 Month, settled at $3.184/Dth up 14.4 cents
---
FirstEnergy Pays $230M in Federal Bribery Settlement
"Akron-based FirstEnergy agreed to pay $230 million to defer prosecution of federal criminal charges on Thursday.
The agreement comes roughly one year after then-Ohio House Speaker Larry Householder and four others were arrested on racketeering charges stemming from a scheme to put Householder in the speaker's seat, pass a $1 billion bailout for two nuclear plants and defend that legislation from being blocked."
Read the rest of the Ohio Capital Journal article on the former PUCO chairman's relationship with FirstEnergy here.
---
Do you have the best natural gas contract for your business?
We can help you evaluate your current contract and explore your natural gas buying options. Call us at 866-646-7322 for a no-cost, no-obligation analysis today.