Natural Gas Storage Summary
For natural gas report week, February 27, 2020, the EIA reported a net decrease in storage of 143 Bcf, in line with projections ranging from a withdrawal of 140 Bcf to a draw of 167 Bcf. Last year for the same week there was a withdrawal of 167 Bcf and the five-year average is a withdrawal of 122 Bcf.
Working gas in storage was 2,200 Bcf as of Friday, February 21st, 2020 per EIA estimates. Inventory was reported at 637 Bcf (40.8%) higher than last year for the same week and 179 Bcf (8.9%) more than the five-year average of 2,021 Bcf.
Natural Gas Market Recap
April NYMEX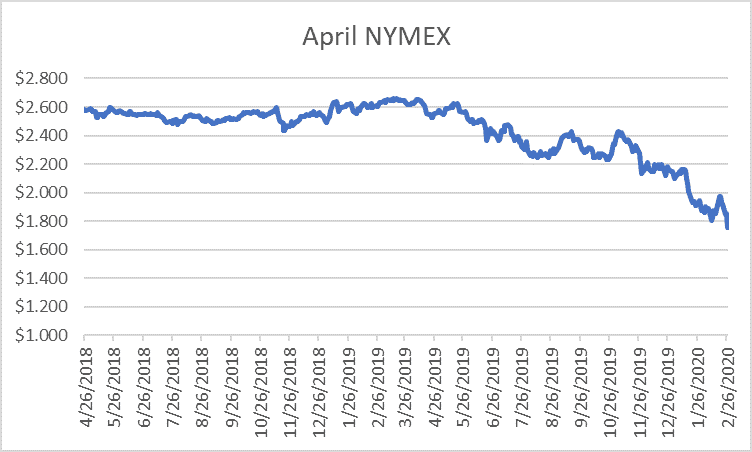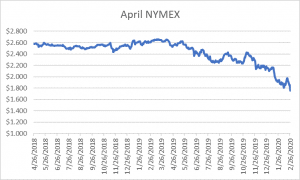 March moved off the board Wednesday, February 26th, settling the month at $1.821/Dth.
April settled Thursday at $1.752/Dth down 8.5 cents from Wednesday's close at $1.837/Dth.
12 Month Strip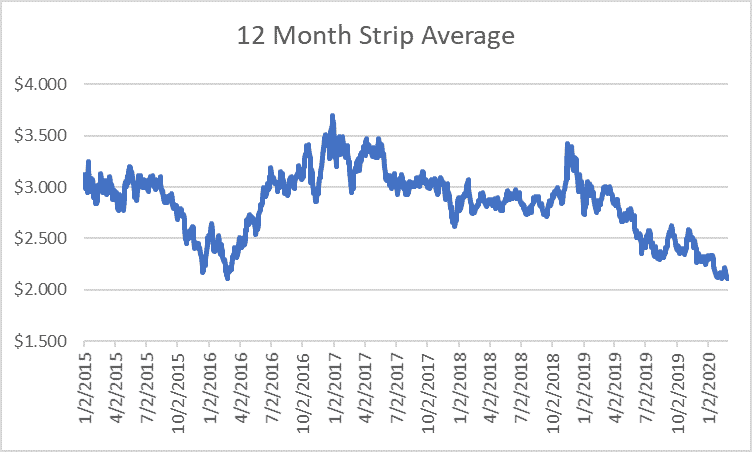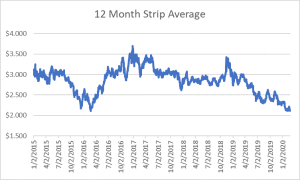 Settled Thursday at $2.114/Dth, down 6.8 cents from last Thursday.
Seasonal Strips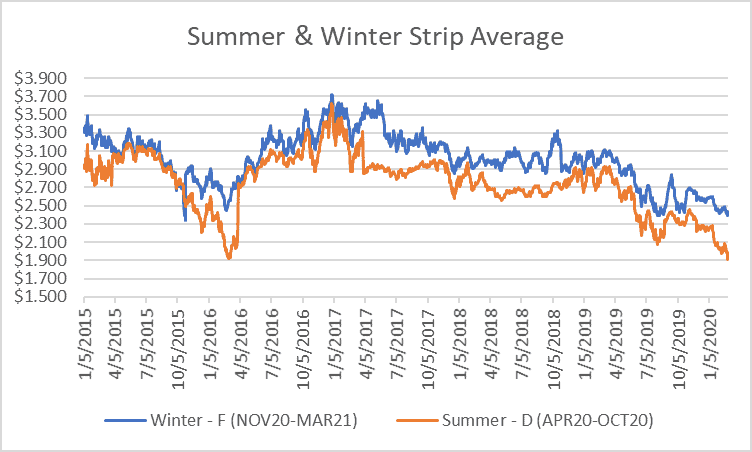 The summer diminishing strip (APR20-OCT20) settled Thursday at $1.914/Dth, down 14.5 cents from
the prior week. The winter forward strip (NOV20-MAR21) settled Thursday at $2.394/Dth, down 6.5 cents from last
Thursday.
Natural Gas Weekly
Natural Gas Report – February 27, 2020
Fundamentals
Overall supply averaged 100.0 Bcf/d last week with production unchanged and average net imports from Canada down by 7%. Despite week-over-week numbers showing production has been consistently flat, it's up 5.1 Bcf/day over last year has and averaged 91.5 Bcf/d so far this month. Total demand dropped by 4% from the prior report week with residential/commercial consumption and power-generation down by 8% and 3%, respectively. Industrial consumption grew by 2% while exports to Mexico remained the same at 5.4 Bcf/d week-over-week.
So far this withdrawal season, the average rate of withdrawal is 9% less than the five-year average. If the rate of withdrawal from storage matched the five-year average of 8.3 Bcf/d from now until March 31, storage inventory would be 1,876 Bcf which is 179 Bcf higher than the five-year average of 1,697 Bcf.
Important Trends 
More than 83,000 cases of coronavirus have been confirmed in more than 50 countries as global disruption to businesses and economies has impacted American markets throughout the last week.
Natural gas markets have not been immune to the impact as China National Offshore Oil Corp. (CNOOC), China's largest LNG importer suspended contracts with suppliers and made a legal move to nullify other contractual obligations, leaving many shipping vessels afloat while they search for other buyers.
Chevron sent home 300 workers in London over coronavirus fears when an employee returned to work following a trip to Italy and began feeling ill. Other companies have also furloughed employees which may disrupt natural gas supply and demand.
Amid declining demand, oil prices are notably lower at $45 a barrel. The NYT reports that's the break-even price for many producers who don't yet have immediate plans to curtail drilling, a move that would translate to reduced associated natural gas production.
Prices
As the trading calendar flips to April 2020, the first month of the diminishing summer strip, there's an awareness that the time for winter's last hurrah for this withdrawal season is at hand. This was reaffirmed by forecasts predicting temperatures in excess of the ten-year norm for the majority of the country.
Haven't cleared the driveway from this week's snow? Not to worry, cities from Chicago to Baltimore will see temperatures in the 50s and 60s next week. While that might help clear your walkway, it's certainly no help when it comes to natural gas prices which fell uniformly across the report week. Spot, prompt month, calendar, and seasonal strip prices all declined across the report week. By current circumstances, voluntary production declines are more likely to help prices than other fundamentals.