Natural Gas Price Analysis
Declining prices marked natural gas report week, December 2, 2021 as weather reclaimed its place as primary driver for winter natural gas prices. With the next month of winter forecasts trending above-average, will the bulls find little more than a disappointing lump of coal waiting for them?
A Winter Preamble
Before we take a look at the attention-grabbing price movement of the last week, I want to call out that December trading settled last Friday (at $5.447/Dth if you're wondering). As equally remarkable as the fact that it's been more than a decade since December settled above $5.00 (2008 at $6.888/Dth), it's hard to grasp that the prompt month is now January. Where did the year go?
Watching International Markets
Maybe time sneaks by while market watching. In recent months, that's included the evolution of international natural gas markets as a driver for domestic prices, particularly during the fall shoulder season. Historically low European storage levels led to apprehension over insufficient supply to cover winter heating demand. This bled into international natural gas prices, which in turn fueled U.S. markets. Russian promises for additional supply shipments quickly deflated prices. Yet in recent weeks, Russia has failed to deliver on that promise and all signs evidence no intention to do so. And as you'd guess, price volatility returned – at least for Europe.
Lower Prices For Me But Not For Thee
It would be reasonable to expect that if domestic natural gas prices surged in tandem with international markets in early October, given the same conditions it would happen again. But that's not happened… yet.
Last week, prices fell sharply – even after the EIA weekly storage report showing a withdrawal of 59 Bcf which exceeded the five-year average withdrawal of 31 Bcf and last year's draw of 4 Bcf. Why?
Walking In a Springtime Wonderland?
Simply put, with winter weather outlooks forecasting above-average temperatures for much of the country through December, a major factor in winter prices has evaporated. To this end, it's worth noting the largest loss from last week ($1.029) was in the balance of the winter strip. As winter-month prices have started to look more like spring-month prices, it's a solid sign that recent price activity is tied closely to weather.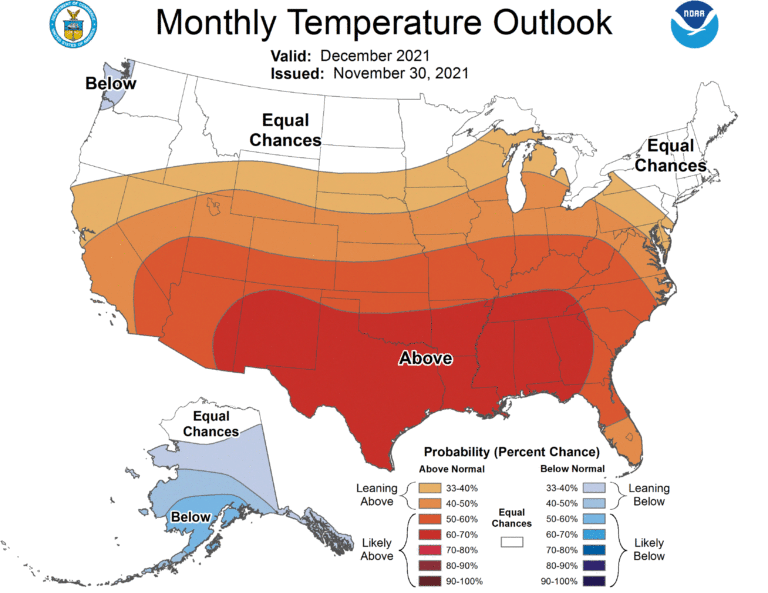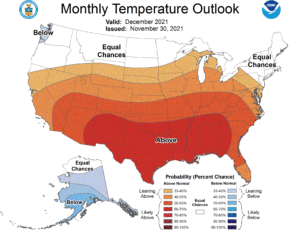 Worth Watching
It would, however, amount to an oversimplification to point to weather as the sole determinant in winter prices. So here are a few other items worth noting (and monitoring):
OPEC/Russian Oil Producers – The group agreed to gradual monthly increases in production until the pace is restored to pre-pandemic levels. The increases, set to begin in January, led to immediate price declines. Watch the balance of supply and demand. Recall in April 2020, oversupply and declining demand led to negative oil prices. Confronted with waning profitability, investors called for cuts in production. Cuts in oil production translate to reduced associated natural gas production. Such a development would prove bearish for oil, bullish for natural gas.
COVID. This is an unknown right now. However, as countries throughout Europe and Asia have started mapping out restrictions to combat Omicron, some analysts are voicing their concerns about the impact those efforts may have on demand. Others cite similar overcalculations surrounding the Delta virus, dismissing the latest variant as a significant demand threat.
FEB22, settled at $3.997/Dth, down $1.020
MAR22, settled at $3.846/Dth down 93.5 cents
APR22, settled at $3.676/Dth down 53.9 cents
MAY22, settled at $3.653/Dth down 50.3 cents
JUN22, settled at $3.691/Dth down 49.3 cents
Last Chance To Register For The 2021 Ohio Energy Conference
Don't miss out on this year's Ohio Energy Conference! This virtual seminar will help you get in front of the changes coming to Ohio energy consumers.
Learn from energy industry experts as they identify renewable solutions for businesses of all sizes, discuss options for buying, weigh the benefits, and outline the practical steps you can take to make it happen for your business.
How to Finance Renewable Energy Projects
How to Present an Energy Project to Your Management Team
​Carbon Reporting: Why and How
Renewable energy is quickly becoming a significant issue confronting businesses so it's important to begin proactive planning today. This virtual conference is a simple step in getting started.
For more information and to register, visit https://www.energycoalitionohio.org/oec
---
Natural Gas Market Report – December 2, 2021
January NYMEX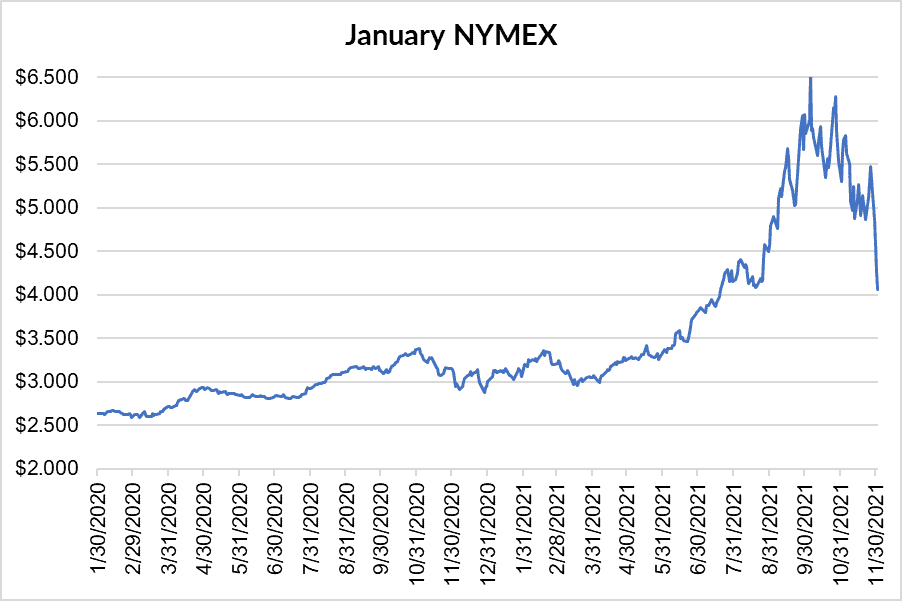 December moved off the board Friday, November 26th, settling the month at $5.447/Dth.
January settled Thursday at $4.056/Dth down 20.2 cents from Wednesday's close at $4.258/Dth.
12 Month Strip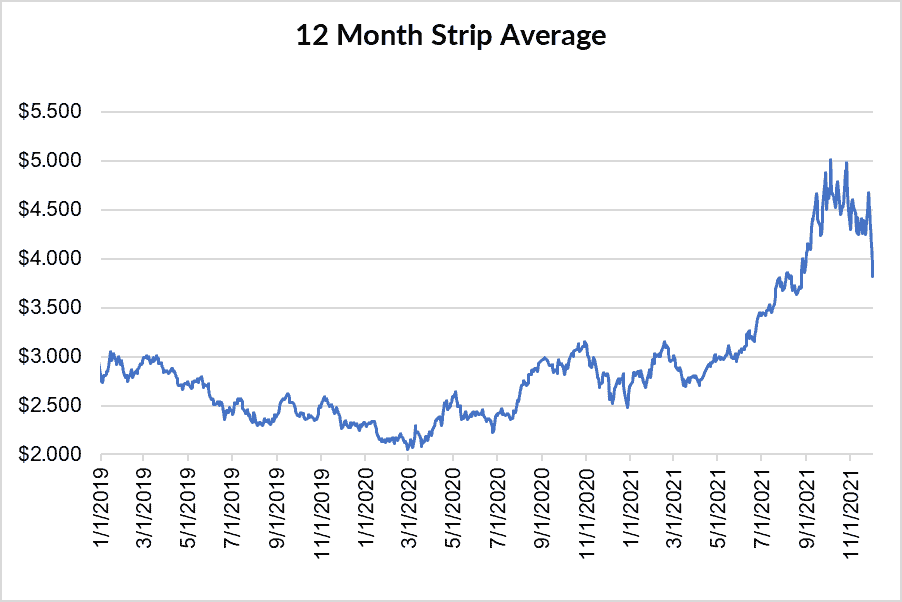 Settled Thursday at $3.821/Dth, down 66.0 cents from the prior week.
Seasonal Strips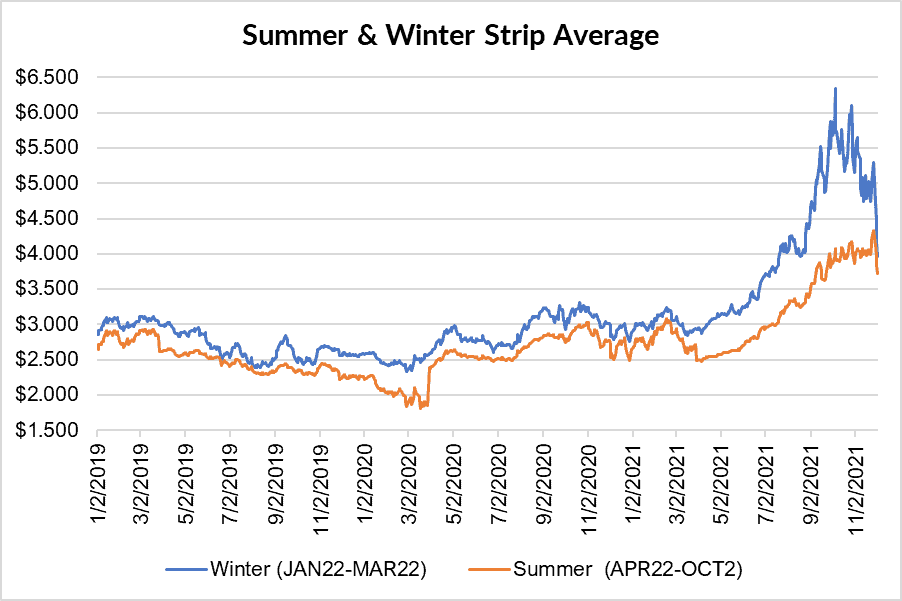 The winter strip (JAN22-MAR22) settled Thursday at $3.966/Dth, down $1.029 from the week prior. The summer strip (APR22-OCT22) settled Thursday at $3.719/Dth, down 49.0 cents from the week prior.
Calendar Years 2022/2023/2024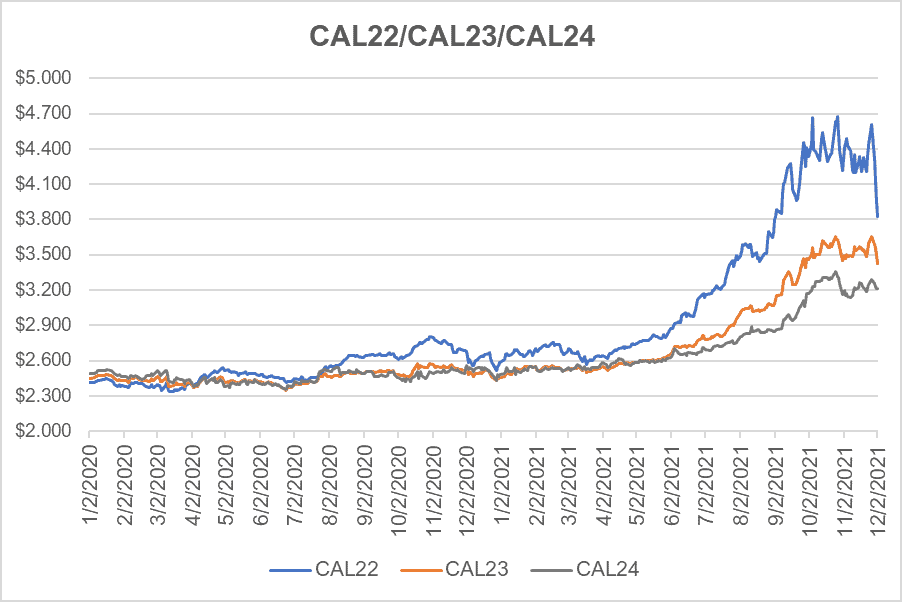 CY22 settled Thursday at $3.821/Dth, down 61.3 cents from the prior week.
CY23 settled Thursday at $3.428/Dth, down 16.6 cents from the prior week.
CY24 settled Thursday at $3.210/Dth, down 4.0 cents from the prior week.
---
Need Help Making Sense of Natural Gas Prices?
Give us a call. We can help you manage risk and navigate the current price volatility.
We'll evaluate your current contract and explore your natural gas buying options.
Call us at 866-646-7322 for a no-cost, no-obligation analysis today.