For natural gas report week April 22, 2021, the EIA reported a net increase in storage of 38 Bcf. The build was at the low end of estimates ranging from injections of 37 Bcf to 59 Bcf, averaging 48 Bcf. Last year for the same week there was an injection of 47 Bcf and the five-year average is an injection of 37 Bcf.
Working gas in storage was 1,883 Bcf as of Friday, April 16, 2021 per EIA estimates. Inventory was 251 Bcf (-11.8%) less than last year for the same week and 12 Bcf (0.6%) more than the five-year average of 1,871 Bcf.
Natural Gas Market Recap
May NYMEX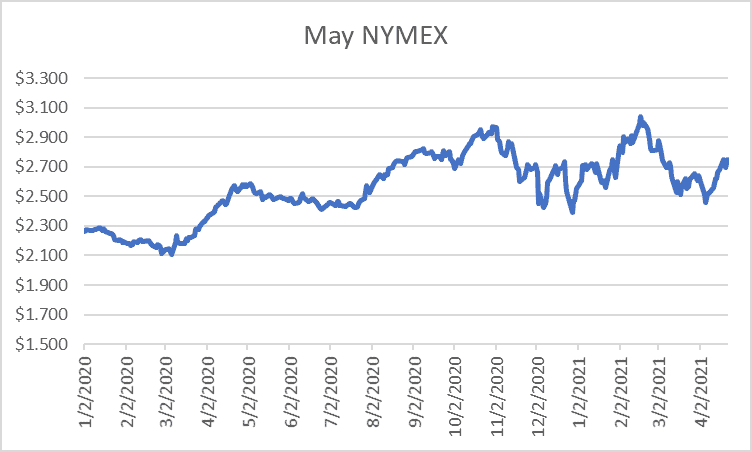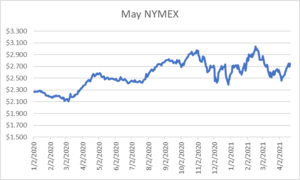 Settled Thursday at $2.749/Dth, up 5.7 cents from Wednesday's close at $2.692/Dth.
12 Month Strip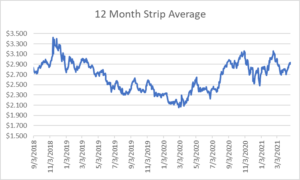 Settled Thursday at $2.937/Dth, up 8.1 cents from the prior week.
Seasonal Strips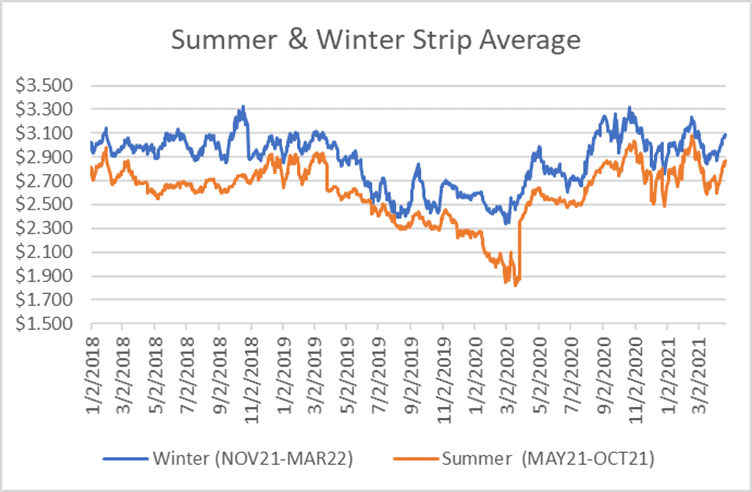 The summer strip (MAY21-OCT21) settled Thursday at $2.874/Dth, up 9.5 cents from the week prior. The winter strip (NOV21-MAR22) settled Thursday at $3.091/Dth, up 8.0 cents from the week prior.
Natural Gas Weekly
Natural Gas Report – April 22, 2021
Natural Gas Fundamentals
Overall supply averaged 95.8 Bcf/d last week as production decreased by 0.9%. Meanwhile, imports from Canada increased by 30.3%.

Total demand rose by 9.8% from the prior report week, averaging 95.3 Bcf/d. Residential-commercial demand increased by 29.6% on higher consumption for heating. Use for power generation increased by 2.0% Industrial demand grew by 3.8% while exports to Mexico fell by 5.5%.

LNG pipeline receipts are up by 0.5 Bcf/d from last week, averaging 11.6 Bcf/d. Twenty LNG vessels with a combined carrying capacity of 73 Bcf departed the U.S. between April 15 and April 21, 2021. Baker Hughes rig data shows the overall number of rigs in operation increased by 7, up to 439. Natural gas specific rigs increased by one from last week, up to 94.
---
Natural Gas Prices
Prices generally rose across the report week in response to below-average temperatures throughout much of the Lower 48. The increased demand led to an injection that fell at the low end of projections and 10 Bcf below last year's injection. NOAA 8-14 day forecasts show average to above-average temperatures for most of the country through the first week of May. As such, the weather-related price support can be expected to fade as warmer weather returns.
---
Carbon Reduction Commitments and The Future Of Natural Gas
During talks at this week's virtual Leaders Summit on Climate, President Biden announced, "the United States is committing to cutting its fossil fuel emissions up to 52% by 2030 from 2005 levels…" The administration's increasingly aggressive goals on reduction of carbon emissions leaves many wondering what place natural gas has in in that planning.
Amid abundant supply and affordable prices, natural gas has figured predominantly in power generation mixes – often in favor of coal. As the more affordable option, natural gas has been hailed as a cleaner burning fuel. While many perceive gas as an essential part of the United States energy strategy, others aren't convinced it will work out that way.

Natural Gas Intelligence has reported that, "BP plc in its Energy Outlook 2020 estimated that even in a net-zero scenario, natural gas would still account for 13% of global primary energy demand, versus 24% in 2018. New research published Thursday by scholars at Columbia University's Center on Global Energy Policy, meanwhile, found that, "investing more in the domestic natural gas pipeline network could help the U.S. reach net-zero emission goals more quickly and cheaply."
Critics of the plan, however, remain wary. The Philiadelphia Inquirer captured the hesitant sentiment of many energy industry organizations. "Meanwhile, skeptics said the administration's goals are aggressive and would require transforming the fossil fuel industry. They noted that the announcement was short on specifics, and asked how its needed measures would get through a closely divided Congress." In a letter to the Biden Administration, the groups called on leaders to account for the significant role natural gas has assumed in the U.S. energy mix when it comes to mapping out the country's path to a clean energy future.
---
Do you have the best natural gas contract for your business?
We can help you evaluate your current contract and explore your natural gas buying options. Call us at 866-646-7322 for a no-cost, no-obligation analysis today.